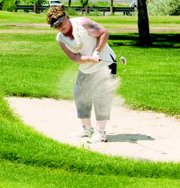 Sunnyside's Juan Guerrero and Candice Flores easily bested the field at this year's "Love Is" couples golf tournament, staged this past Saturday and Sunday at Black Rock Creek Golf Course.
The local duo carded a two-day, 4-under-par total of 140. The next closest finishers were nine shots back at 5-over-par 149.
This year's "Love Is" tourney at the Sunnyside golf course drew a field of 32 couples. The format both days was Chapman play, where each team member teed off every hole, then hit their partner's ball on the second shot, and from there alternated taking turns hitting the ball until it was holed.
Guerrero and Flores, with a combined handicap of 11, opened the two-day competition by firing a 3-under-par 69. The next best score on Saturday was a 1-over-par 73, claimed by Brian and Emily Gordon. The Sunnyside golfers backed up their opening day 69 with a 1-under 71 on Sunday.
The Gordons and the duo of Troy Wilmoth and Kris Scacco ended up tied for the second low score of the tourney. Each of the pairs carded a 149. The Gordons shot 73-76, while Wilmoth and Scacco had rounds of 76-73.
Also cashing was the fourth place finishing team from the championship flight, Dar and Vernie Par. The duo totaled a 13-over-par 157 on rounds of 78-79.
From among the first flight competitors, the teams of Don and Rebecca Hildman and Ken and Rae Ann Goin posted the lowest scores...identical 23-over-par 167's. The Hildmans shot rounds of 86-81, while the Goins posted scores of 91-76.
The lowest net scores of the tourney (actual score minus handicap) were turned in by Guerrero and Flores (118), the Goins (119), the Hildmans (121), Gary Pero and Kathleen Mutch (124), Don and Marlana Williams (124), the Pars (129), Mike and Torrie Melton (129), George and Bev Frederick (129), Kino Arambul and Delores Dasso (130), Lewis and Janet Bassell (130) and Bob and Jessica Duda (130).