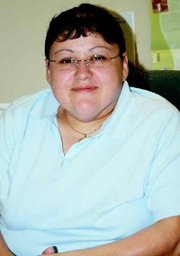 Sunnyside Noon Rotary Club's new president, Sandra Rivera, says she feels it is important to increase membership in the group.
"Members of our club are getting older and I think we need to promote awareness with younger community members about what we do," she said, stating she doesn't feel people are aware of the support Rotary provides for the Sunnyside Sharks swim team.
Rivera said the two Rotary clubs, the Sunnyside Noon Rotary Club and the Sunnyside Daybreak Rotary Club, are the primary sponsors of the swim team and have been instrumental in providing the team with a snack shack for home meets.
"Rotary is important in our community," she stated.
The clubs both sponsor a Rotary Exchange student each year and provide scholarships for local students.
Her club sponsors needy families from within the community each year at Christmas. She said the club, traditionally, provides gifts and meets the needs of the families it sponsors.
Rivera became Sunnyside Noon Rotary Club's president July 1, and said she would also like to promote a project centered around Rotary International's theme for the 2008-09 year.
That theme is "Make Dreams Real," and she said the organization's president wishes to help decrease the rate of infant mortality worldwide.
Rivera said a fundraiser or community project promoting awareness of infant mortality rates would be ideal for her club.
She can't do it alone, however. She said the Noon Rotary Club board of directors and officers are dedicated and provide leadership, which lends to meeting the goals of the club.
"They are a very strong group, who work hard toward meeting annual goals," said Rivera.
She said she has been impressed by different clubs throughout the state and the impact those clubs make in their communities. She said she feels her club measures up, creating a positive example of the dedication provided by all Rotary members within the state.
"Ultimately, I just want the tradition and values of the club to continue," she stated, saying new members being added to the club's roster can better help the club reach its goals.