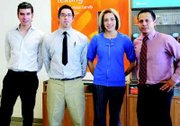 Call Me Inc. opened for business in Sunnyside approximately one month ago.
The store, located at 2605 East Lincoln Avenue, is preparing to move to a larger location not far away, however. According to director of operations for the Pacific Northwest, Joe Padilla, the store will have a more permanent location where Blockbuster once was.
He said the location in front of Wal-Mart is ideal for both visibility and the needs of AT&T customers in the Lower Yakima Valley.
"AT&T has a large percent of the market share in the region, but most customers had to travel to either Yakima or the Tri-Cities (for services)," Padilla said, stating his company believed the customers in the area were in need of a local authorized AT&T dealer.
He said Wal-Mart is a "good anchor" for a market such as the Lower Valley. "People come from all over the area to shop at Wal-Mart and we are conveniently located," Padilla stated.
He said the store plans a grand opening once it is moved into the permanent location, hopefully by Aug. 1. The company opened its current location to expedite services to the customers it serves.
"We have already seen a great deal of customers walk in even though we aren't in what we believe is an ideal location," said Padilla, stating he has hopes that the larger store will draw even more attention.
The store is not just a retail location, according to Padilla. He said, "We can't stress enough on the emphasis for customer service and training."
He said the staff at Call Me Inc. has a core management team "hand-picked" from Texas, who are located in Sunnyside to ensure new team members will be capable and proficient at providing customers with their needs.
"We're not just here to sell, but to deliver 100 percent customer satisfaction," Padilla stated.
He said his staff is trained to help customers save money, obtaining services they need...not just what will make the company the most money.
Padilla said the store has more than 30 models of cellular phones and more than five of those are free with a contract. To meet the recent state law that disallows motorists using handsets, he said the store carries more than 15 bluetooth models to accompany the phones available to customers.
"We love the community...we didn't know what to expect (when we opened the Sunnyside location), but we have been well received," said Padilla. He stated Call Me Inc. has also recently opened a store in the Valley Mall in Union Gap and will be opening a store in Kennewick and one in Pasco.