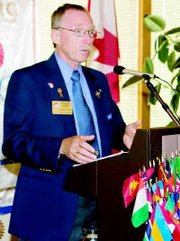 The Sunnyside Noon Rotary Club met its District Governor at the weekly meeting held yesterday, Monday.
Roger Perry, governor for District 5060, and his wife are traveling throughout the district visiting the Rotary clubs. He spoke to the noon club yesterday about Rotary International's current projects and some new ones as well.
This year's Rotary theme is 'Make Dreams Real'.
"When I heard that I thought it was a great name because that's what Rotarians do, make dreams come true," Perry told the Sunnyside noon club.
The projects Rotary International works on are for children. Perry noted to the club that 26,000 children under the age of five die every day from preventable causes. Thousands, he said, die from lack of clean water.
"There is not a community in the world that could not use our help," he said.
Perry reminded the Rotarians of Rotary International's four primary goals...eliminate polio worldwide, provide clean water, promote literacy and health and hunger programs.
"The poorest children and families are the first to be hit by these," he added.
He encouraged the Rotarians to help him make dreams real for children who may not have had any hope before.
Perry also spoke about some new programs in Rotary. This is the first year of the Paul Harris Society, which honors Rotarians who give $1,000 each year to Rotary projects.
This will also be the first year of the Rotarian at Word Day. Every Rotary club in District 5060 will do community service projects on Aug. 25.
Perry also noted there will be a new training program for Rotarians in District 5060 and a future vision for clubs program will be implemented as well. This will help clubs develop long-range plans.