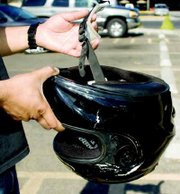 What are the laws regarding motorcycle safety and most specifically, motorcycle helmets?
According to Washington State Patrol Lt. Mike Turcott, helmet laws are difficult to enforce.
According to Turcott, a helmet must consist of a hard outer shell, padding, have a neck or chin strap and display a sticker that says it complies with federal standards.
The problem, said Turcott, is that the DOT stickers can be bought and applied to a helmet that doesn't meet standards.
"The law is loosely defined and it allows people either knowingly or unknowingly to buy illegal helmets," said Turcott.
"There are a lot of fake stickers on helmets," he said.
The law changed a few years ago and Turcott said the legislative intent was to get people to wear DOT approved helmets. But when the law changed, he said, it brought ambiguity along with it.
Turcott said that in 2005, Washington peaked at 80 motorcycle fatalities.
"Last year, we ended up at 66, the first time in many years it was actually down," he said.
This year, to date, Turcott said there have been 30 fatal motorcycle accidents.
Turcott said the state patrol has been focusing on motorcycle safety outreach and safe riding.
If a person is going to ride a motorcycle, he said, "They need to get their motorcycle endorsement and they need to take safety classes."
According to the Department of Licensing's Steve Stewart, the only time a motorcycle endorsement is not needed is when the engine of the bike is less than 50cc's and the highest speed over level ground is no faster than 30 miles per hour.
"Anything over that with two or three wheels requires a motorcycle endorsement," Stewart said.
For people under the age of 18, training is required and costs $50. If an individual is over 18, they can sign up for a low cost, subsidized class for $125.
According to Stewart, the class is about 10 hours of riding time, five hours of class time and one hour of testing.
There is a one-day intermediate rider course where an individual can bring his or her own motorcycle, which, he said, takes six to eight hours, depending on the rider.
During the course, Stewart said, all types of helmets are discussed, whether it's half-shell helmets, three-quarter face helmets or full face helmets.
"My personal choice is the full face helmet," he said. "That's one thing we stress and recommend during the course."
Stewart said that at last count, 40 percent of riders involved in motorcycle fatalities were unendorsed.