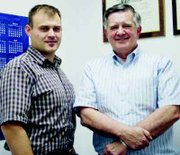 Chuck Shoemaker has made himself somewhat of a mainstay in the community of Sunnyside since he began practicing law here in 1975.
After 33 years, the longtime lawyer has decided to "semi-retire" and pass his law books to Mark Cox, who grew up in The Dalles, Ore.
Shoemaker graduated from the University of Washington law school before moving to Sunnyside. Many of his clients and the community have come to know him through his practice, involvement with Sunnyside Noon Rotary Club and his genial personality when out in the public.
But, he said, he decided it was time to retire and be "of counsel" this year, leaving behind his practice.
"I believe it will be in capable hands," Shoemaker stated, saying he will consult with Cox on an ongoing basis, providing continuity for the clients of his office. He said he has come to value his clients "...dearly."
He added that the people in Sunnyside are what he feels he will miss the most when he leaves because the community has provided him and his family much support throughout the years.
Shoemaker won't go far, though. He is moving to Dayton, which is a two-hour drive from Sunnyside.
He said he has plans of relaxing and spending more time with his wife, Lillian, when he is not needed to assist Cox.
Cox was born in Pullman and moved to The Dalles when he was a young child. He said he received his Associate's degree from the Idaho branch of Brigham Young University and learned to speak Spanish while serving church missions in Argentina.
He studied political science and criminal justice, obtaining his Bachelor's degree from Southern Utah University, and he received his law degree from Gonzaga University.
Since graduating from law school, Cox said he spent three-and-a-half years practicing law in Yakima. He most recently worked at Larson, Berg and Perkins Law Firm.
As to why he has decided to succeed Shoemaker, Cox said, "I feel Chuck has a great practice, he is respected in the community and the county and has a great legacy."
He continued, stating Shoemaker's practices are similar to his own and he is excited about the prospect of continuing the level of service to those within the community who are need of legal counsel.
"I look forward to getting to know Sunnyside, its people and integrating myself with the community," said Cox.
He said he feels law is about the practice of relationships with people.
Cox and his wife, Brooke, have four children and said, "As a family, we love the (Yakima) Valley and feel it is a great place to live."
Shoemaker said he and his wife will miss the Yakima Valley.
The duo will add Cox's name to the firm, and it will be known as Shoemaker & Cox Law Office. They said the location of the office will remain, however, next to Morris Floral in Sunnyside.