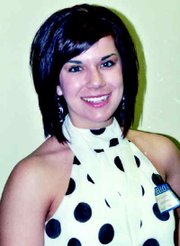 GRANDVIEW - Grandview Junior Miss Cheyen Schenck is gearing up for state competition, slated to take place Aug. 2 in Pullman.
Schenck will compete against 17 young women for the title of Washington Junior Miss.
Her journey begins this coming Monday, July 28. She'll spend the week with a host family in Pullman while participating in various activities.
It's the separation from her family that Schenck finds daunting. While there, she won't be able to talk to her parents on the phone or receive emails. She'll only be able to receive letters and cards.
"I've never not been able to talk to my mom," she said, adding that she's always been a person who enjoys her family.
"I'll miss them, but it'll be a good experience," she said.
Schenck's talent will be a Moulin Rouge inspired dance to the tune of "Diamonds are a Girls Best Friend."
One thing that she said she's been avidly brushing up on is politics, an area of conversation that will crop up at state competition.
Schenck just got back from yearbook camp and is currently at Central Washington University attending a cheerleading camp.
The closer state competition nears, Schenck said she's getting more and more excited.
Several scholarships will be awarded during the program and the young woman crowned the top finisher will receive a $4,000 scholarship.
Schenck will be judged in the categories of talent, fitness and self-expression.
Grandview Junior Miss Coordinator Cookie Shannon is encouraging Grandview residents to show their support by sending cards and letters to Schenck while she's there. To write to Schenck, send mail addressed to her in the care of Mike and Michelle Kinkade, 1252 Reid Road, Pullman, 99163, between Monday, July 28, and Saturday, Aug. 2.