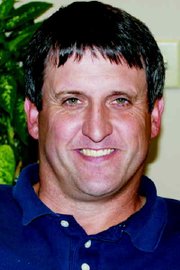 Scott Crimin took over the Region Two Director's position at Provident Horizon Inc. July 1.
He said his region encompasses an area spanning from Zillah to the Tri-Cities and he has hopes of helping community members in the region gain more awareness of the organization's purpose.
Crimin said he feels the programs and services provided at Provident Horizon Inc. are invaluable to both those who utilize the employees trained through the organization and the community.
"One challenge (we face) is getting jobs for those with severe disabilities," stated Crimin. He said his organization is looking at the possibility of developing a micro-business for those whom the public would not "...normally think of as community employed."
He said employment means more to the individuals served by the agency than what is preconceived, stating employment builds self-confidence within an individual and provides the individual with a sense of contributing to the community.
"They have resources, enabling them to participate within the community," explained Crimin.
He said he also has hopes of becoming involved with community activities, such as service organizations within Sunnyside.
"I want to get the word out about the agency (Provident Horizon Inc.), which is a service organization," Crimin stated.
He said he feels the organization, which has been in the Sunnyside area for more than 35 years, helps many individuals who are willing to contribute to the well-being of the community.
Crimin added that the individuals are helped by members of the agency who are dedicated and committed to helping those with disabilities. "They do a great job of matching an individual with a specific (place of employment)," he noted.
Crimin worked in quality assurance for Provident Horizon, Inc. before filling his current position. He said Susan Kautzman is now working in Yakima serving in his former role. That role involves ensuring the company meets standards of accreditation and making sure families receive the service expected from the organization.
He said he is excited about serving the communities, and helping the disabled individuals who live in the communities, that are served by Provident Horizon Inc.
Scott Crimin
1 - Jennie McGhan • July 23, 2008 • 3:13 PM
Proofed_________ • Corrected & Placed in Folder_____________