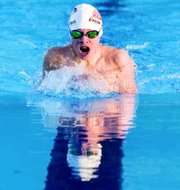 Relying on the strength of their girls 8&U and boys 14& swimmers, the Sunnyside Sharks bested the visiting Selah Dolphins last night, 430-389.
Tuesday evening's 41-point margin of victory gave Sunnyside a sweep over the Dolphins this season, as the Sharks defeated Selah by 20 points earlier this summer in the Dolphins' home pool. Sunnyside is now 10-1 in Mid-Valley Summer Swim League dual meet action. The Sharks close out the regular season tonight against the Neptunes (3-8) in Grandview's pool.
Last night, Sunnyside was most dominant in the girls 8&U races. The Sharks outscored Selah's 8&U female swimmers by a whopping 51-1 margin.
Emily Banks was a three-time winner for Sunnyside in that age group, claiming victories in the 50-meter breaststroke, backstroke and freestyle events. Teammate Jolissa Mendoza got the other girls 8&U win, that coming in the 50-butterfly. Mendoza also earned a second place finish in the 50-free and was third in the 50-back.
Other Sunnyside standouts at girls 8&U included Alyssa Martin...second in the breast and third in the 'fly and free; Emily Broersma...third in the breast and fourth in the 'fly; Janessa Frank...second in the back; Bailey Hazzard...fourth in the back; and Allison Davis...fourth in the free.
Sunnyside's 14&U boys outscored their Selah counterparts by a 61-13 margin. The top performer for the Sharks in that age grouping was Cristian Vargas, winner of the 50-meter butterfly, breaststroke and backstroke races. Teammate Tim Stiteler went on to win the boys 14&U 50-freestyle and 200-meter individual medley events.
Selah garnered 190 of its 389 team points in the older girls and boys 16&U and boys 18&U age divisions, limiting the Sharks to just 12 points in those three older age groupings.
Selah 389
Sunnyside 430
200-METER MEDLEY RELAY
Girls 10&U
1st-Sunnyside (K. Banks, A. Davis, L. Schilperoort, K. Bestebreur) 3:29.45
Boys 10&U
1st-Sunnyside (B. Murphy, M. Marquez, F. Rodriguez, T. Valenzuela) 3:50.09
Girls 12&U
1st-Sunnyside (M. Marquez, B. Broersma, L. Anderson, J. Rodriguez) 3:10.56
Boys 12&U
1st-Sunnyside (N. Ramirez, J. Martin, T. Tyhu8is, C. Murphy) 3:19.32
Girls 14&U
1st-Selah (S. Gaskill, S. Smith, J. Benn, A. Smith) 2:36.47
Boys 14&U
1st-Sunnyside (C. Vargas, G. Rodriguez, G. Stutesman, T. Stiteler) 2:37.94
Girls 18&U
1st-Selah (R. Viernes, M. Jones, E. Gonseth, N. Bannister) 2:37.38
Boys 18&U
1st-Selah (A. Estella, A. Yager, J. Gaskill, K. Raschko) 2:25.59
50-METER BUTTERFLY
Girls 8&U
1st-Jolissa Mendoza (Su) 1:10.91, 2nd-Emily Banks (Su) 1:14.25, 3rd-Alyssa Martin (Su) 1:19.31, 4th-Emily Broersma (Su) 1:22.71
Boys 8&U
1st-Carlo Rodriguez (Su) 1:10.65, 2nd-Jacob Frampton (Se) 1:28.40, 3rd-Patrick Zecchino (Su) 1:30.03, 4th-Parker Van de Graaf (Su) 1:37.51
Girls 10&U
1st-Lindsay Schilperoort (Su) 52.12, 2nd-Melanie Garza (Se) 53.12, 3rd-Katelyn Banks (Su) 53.18, 4th-Aydan Harrington (Su) 59.65
Boys 10&U
1st-Ivan Lancaster (Se) 55.97, 2nd-Nolan Frampton (Se) 59.06, 3rd-Fox Rodriguez (Su) 1:01.95, 4th-Ben Briesmeister (Se) 1:05.53
Girls 12&U
1st-Madi Marquez (Su) 44.17, 2nd-Brittany Broersma (Su) 44.31, 3rd-Payton Sample (Se) 49.41, 4th-Kylie Ergeson (Se) 52.72
Boys 12&U
1st-Tad Tyhuis (Su) 41.75, 2nd-Wyatt Thomas (Se) 43.91, 3rd-Bailey Perez (Se) 51.62, 4th-Nickolas Ramirez (Su) 52.00
Girls 14&U
1st-Marisa Broersma (Su) 36.78, 2nd-Shannon Gaskill (Se) 38.65, 3rd-Aricka Smith (Se) 39.36, 4th-Jenny Benn (Se) 39.37
Boys 14&U
1st-Cristian Vargas (Su) 34.03, 2nd-Tim Stiteler (Su) 39.00, 3rd-(tie) Daniel Whittlesey (Se) & David Whittlesey (Se) 39.66
Girls 16&U
1st-Emily Gonseth (Se) 36.79, 2nd-Nicole Bannister (Se) 39.25, 3rd-Rainan Viernes (Se) 39.83, 4th-Alissa Martin (Su) 41.43
Boys 16&U
1st-Kyle Raschko (Se) 32.31, 2nd-Josh Gaskill (Se) 33.34, 3rd-Alex Yager (Se) 35.15, 4th-Edgar Vargas (Su) 36.43
Girls 18&U
1st-Kaitlyn Broersma (Su) 35.90, 2nd-Megan Jones (Se) 40.31, 3rd-Melissa Stamschror (Su) 50.00, 4th-Julie Wedam (Su) 56.79
Boys 18&U
1st-Adam Estella (Se) 35.56, 2nd-Jared Hansen (Se) 41.35
50-METER BREASTSTROKE
Girls 8&U
1st-Emily Banks (Su) 1:05.25, 2nd-Alyssa Martin (Su) 1:11.83, 3rd-Emily Broersma (Su) 1:15.18, 4th-Leah Sample (Se) 1:17.22
Boys 8&U
1st-Jacob Frampton (Se) 1:22.41, 2nd-Carlo Rodriguez (Su) 1:23.59, 3rd-Patrick Zecchino (Su) 1:33.96, 4th-Anthony Sanchez (Su) 2:07.28
Girls 10&U
1st-Erin Herzog (Se) 54.81, 2nd-Kalie Bestebreur (Su) 55.46, 3rd-Katelyn Banks (Su) 57.71, 4th-Ashley Davis (Su) 57.78
Boys 10&U
1st-Fox Rodriguez (Su) 57.50, 2nd-Ivan Lancaster (Se) 57.59, 3rd-Mathew Marquez (Su) 57.78, 4th-Nolan Frampton (Se) 59.91
Girls 12&U
1st-Brittany Broersma (Su) 45.03, 2nd-Madi Marquez (Su) 49.31, 3rd-Lyndsee Anderson (Su) 49.68, 4th-Kylie Ergeson (Se) 51.80
Boys 12&U
1st-Joel Martin (Su) 51.45, 2nd-Wyatt Thomas (Se) 52.37, 3rd-Trajen Frank (Su) 53.40, 4th-Tad Tyhuis (Su) 53.62
Girls 14&U
1st-Shannon Gaskill (Se) 39.40, 2nd-Marisa Broersma (Su) 39.90, 3rd-Kelsey Clifton (Se) 46.53, 4th-Ashley Anderson (Se) 46.82
Boys 14&U
1st-Cristian Vargas (Su) 41.50, 2nd-Tim Stiteler (Su) 44.56, 3rd-Giovanni Rodriguez (Su) 44.90, 4th-Grant Stutesman (Su) 45.91
Girls 16&U
1st-Emily Gonseth (Se) 43.91, 2nd-Rainan Viernes (Se) 45.00, 3rd-Nicole Bannister (Se) 47.20, 4th-Jacklyn Brown (Se) 47.41
Boys 16&U
1st-Josh Gaskill (Se) 38.69, 2nd-Kyle Raschko (Se) 41.84, 3rd-Matt Pinyerd (Se) 43.62, 4th-Edgar Vargas (Su) 45.43
Girls 18&U
1st-Kaitlyn Broersma (Su) 38.93, 2nd-Megan Jones (Se) 48.59, 3rd-Megan Razey (Su) 50.18, 4th-Melissa Stamschror (Su) 53.37
Boys 18&U
1st-Adam Estella (Se) 45.33, 2nd-Ben Landis (Se) 45.41, 3rd-Jakob Anderson (Su) 48.34, 4th-Jared Hansen (Se) 48.65
50-METER BACKSTROKE
Girls 8&U
1st-Emily Banks (Su) 1:01.16, 2nd-Janessa Frank (Su) 1:04.96, 3rd-Jolissa Mendoza (Su) 1:05.40, 4th-Bailey Hazzard (Su) 1:10.00
Boys 8&U
1st-Patrick Zecchino (Su) 1:08.28, 2nd-Carlo Rodriguez (Su) 1:10.84, 3rd-Jacob Frampton (Se) 1:25.91, 4th-Parker Van de Graaf (Su) 1:25.97
Girls 10&U
1st-Katelyn Banks (Su) 49.75, 2nd-Melanie Garza (Se) 51.41, 3rd-Lindsay Schilperoort (Su) 56.25, 4th-Sadie Salas (Su) 58.28
Boys 10&U
1st-Nolan Frampton (Se) 52.31, 2nd-Ivan Lancaster (Se) 55.06, 3rd-Bryce Murphy (Su) 57.37, 4th-Tavian Valenzuela (Su) 1:01.37
Girls 12&U
1st-Brittany Broersma (Su) 42.56, 2nd-Madi Marquez (Su) 42.96, 3rd-Lyndsee Anderson (Su) 50.64, 4th-Kylie Ergeson (Se) 52.13
Boys 12&U
1st-Tad Tyhuis (Su) 44.43, 2nd-Bailey Perez (Se) 48.66, 3rd-Wyatt Thomas (Se) 50.97, 4th-Nickolas Ramirez (Su) 55.34
Girls 14&U
1st-Marisa Broersma (Su) 39.71, 2nd-Aricka Smith (Se) 42.00, 3rd-Ashley Anderson (Se) 42.34, 4th-Shannon Gaskill (Se) 44.90
Boys 14&U
1st-Cristian Vargas (Su) 37.21, 2nd-Tim Stiteler (Su) 41.15, 3rd-David Whittlesey (Se) 41.91, 4th-Daniel Wittlesey (Se) 42.66
Girls 16&U
1st-Rainan Viernes (Se) 38.22, 2nd-Nicole Bannister (Se) 39.91, 3rd-Kristen Wedam (Su) 42.15, 4th-Emily Gonseth (Se) 42.72
Boys 16&U
1st-Alex Yager (Se) 38.03, 2nd-Matt Pinyerd (Se) 38.90, 3rd-Kyle Raschko (Se) 39.93, 4th-Josh Gaskill (Se) 40.66
Girls 18&U
1st-Kaitlyn Broersma (Su) 39.31, 2nd-Megan Jones (Se) 42.50, 3rd-Melissa Stamschror (Su) 48.96, 4th-Megan Razey (Su) 50.03
Boys 18&U
1st-Adam Estella (Se) 41.12, 2nd-Jared Hansen (Se) 47.81
50-METER FREESTYLE
Girls 8&U
1st-Emily Banks (Su) 51.59, 2nd-Jolissa Mendoza (Su) 51.68, 3rd-Alyssa Martin (Su) 1:02.03, 4th-Allison Davis (Su) 1:02.90
Boys 8&U
1st-Carlo Rodriguez (Su) 52.18, 2nd-Patrick Zecchino (Su) 55.65,3rd-Jacob Frampton (Se) 1:03.12, 4th-Parker Van de Graaf (Su) 1:23.62
Girls 10&U
1st-Katelyn Banks (Su) 42.96, 2nd-Melanie Garza (Se) 43.13, 3rd-Kalie Bestebreur (Su) 43.48, 4th-Aydan Harrington (Su) 46.20
Boys 10&U
1st-Ivan Lancaster (Se) 42.20, 2nd-Nolan Frampton (Se) 42.91, 3rd-Tavian Valenzuela (Su) 48.93, 4th-Fox Rodriguez (Su) 50.03
Girls 12&U
1st-Brittany Broersma (Su) 34.25, 2nd-Madi Marquez (Su) 35.34, 3rd-Lyndsee Anderson (Su) 38.81, 4th-Heather Bannister (Se) 41.69
Boys 12&U
1st-Wyatt Thomas (Se) 35.65, 2nd-Tad Tyhuis (Su) 35.81, 3rd-Bailey Perez (Se) 38.63, 4th-Joel Martin (Su) 40.46
Girls 14&U
1st-Marisa Broersma (Su) 32.56, 2nd-Sam Smith (Se) 32.85, 3rd-(tie) Aricka Smith (Se) & Shannon Gaskill (Se) 34.31
Boys 14&U
1st-Tim Stiteler (Su) 31.75, 2nd-Daniel Whittlesey (Se) 34.06, 3rd-David Whittlesey (Se) 35.37, 4th-Logan Heim (Se) 37.22
Girls 16&U
1st-Nicole Bannister (Se) 32.19, 2nd-Rainan Viernes (Se) 32.78, 3rd-Bethany Bradford (Se) 34.87, 4th-Alissa Martin (Su) 35.65
Boys 16&U
1st-Josh Gaskill (Se) 29.59, 2nd-Kyle Raschko (Se) 29.72, 3rd-Alex Yager (Se) 31.10, 4th-Edgar Vargas (Su) 31.90
Girls 18&U
1st-Kaitlyn Broersma (Su) 32.37, 2nd-Megan Jones (Se) 36.56, 3rd-Melissa Stamschror (Su) 42.65, 4th-Julie Wedam (Su) 46.38
Boys 18&U
1st-Jared Hansen (Se) 32.60, 2nd-Adam Estella (Se) 40.87, 3rd-Ben Landis (Se) 44.27
200-METER FREESTYLE RELAY
Girls 10&U
1st-Sunnyside (K. Banks, S. Hazzard, K. Bestebreur, L. Schilperoort) 3:18.25
Boys 10&U
1st-Selah (I. Lancaster, T. Lund, S. Skelton, N. Frampton) 3:18.66
Girls 12&U
1st-Sunnyside (M. Marquez, J. Rodriguez, L. Anderson, B. Broersma) 2:40.62
Boys 12&U
1st-Sunnyside (J. Martin, E. Partch, C. Stiltner, T. Tyhuis) 3:04.40
Girls 14&U
1st-Selah (A. Anderson, S. Gaskill, S. Smith, A. Smith) 2:24.06
Boys 14&U
1st-Sunnyside (C. Vargas, G. Stutesman, G. Rodriguez, T. Stiteler) 2:29.78
Girls 18&U
No entries
Boys 18&U
1st-Selah (A. Estella, J. Gaskill, A. Yager, K. Raschko) 2:09.37
200-METER INDIVIDUAL MEDLEY
Girls 10&U
1st-Katelyn Banks (Su) 3:54.69, 2nd-Melanie Garza (Se) 4:00.68, 3rd-Lindsay Schilperoort (Su) 4:07.60, 4th-Kalie Bestebreur (Su) 4:16.12
Boys 10&U
1st-Ivan Lancaster (Se) 4:01.88, 2nd-Fox Rodriguez (Su) 4:18.85, 3rd-Ben Briesmeister (Se) 4:41.50, 4th-Jacob Mendoza (Su) 5:20.96
Girls 12&U
1st-Brittany Broersma (Su) 3:23.06, 2nd-Madi Marquez (Su) 3:40.84, 3rd-Lyndsee Anderson (Su) 3:52.92, 4th-Payton Sample (Se) 3:54.53
Boys 12&U
1st-Tad Tyhuis (Su) 3:31.18, 2nd-Wyatt Thomas (Se) 3:37.25, 3rd-Bailey Perez (Se) 4:04.59, 4th-Joel Martin (Su) 4:05.08
Girls 14&U
1st-Marisa Broersma (Su) 3:10.68, 2nd-Kelsey Clifton (Se) 3:25.09, 3rd-Aricka Smith (Se) 3:34.40, 4th-Taylor Jones (Se) 3:38.66
Boys 14&U
1st-Tim Stiteler (Su) 3:19.93, 2nd-Giovanni Rodriguez (Su) 4:03.62, 3rd-Wilson Tramel (Su) 5:21.95
Girls 16&U
1st-Nicole Bannister (Se) 3:07.15, 2nd-Rainan Viernes (Se) 3:08.13, 3rd-Alissa Martin (Su) 3:30.93, 4th-Jacklyn Brown (Se) 3:32.62
Boys 16&U
1st-Kyle Raschko (Se) 2:55.00, 2nd-Josh Gaskill (Se) 2:58.12, 3rd-Alex Yager (Se) 3:05.72, 4th-Dylan Graybeal (Su) 4:10.67
Girls 18&U
1st-Kaitlyn Broersma (Su) 3:02.90, 2nd-Melissa Stamschror (Su) 3:25.91, 3rd-Julie Wedam (Su) 4:27.19
Boys 18&U
1st-Adam Estella (Se) 3:18.71, 2nd-Ben Landis (Se) 3:36.34, 3rd-Jared Hansen (Se) 3:47.12