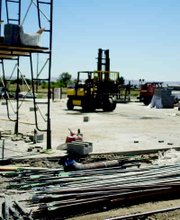 GRANDVIEW - Since the Powell-Christensen company became owner of Mid-Valley Chrysler in Grandview, it's become an ever growing face of change.
First, much to avid hunter Gary Christensen's wife's relief, he began mounting his many hunting trophies at the auto dealership, appealing to the inner outdoorsmen in all.
Soon, the business grew to include used recreational vehicles and boats.
Now, Mid-Valley Chrysler is undergoing yet another change with the addition of 15,000 square feet to expand its service department.
General Sales Manager Brandon Christensen said, "This will allow us to accommodate heavy duty trucks, like tractor trailer type rigs. We also have one sizable fleet in the state whose maintenance will be done here."
On top of all of this, Mid-Valley also achieved Chrysler's Business Link status, which, according to Christensen, allows the Grandview dealership to sell and service commercial duty vehicles, including Sprinters, which are built by Mercedes. "That's the most fuel efficient van in the world for their size," he explained.
He said they'll also be allowed to sell and service 4500 and 5500 series Dodge trucks.
"We're the only dealership in all of Central Washington that is Business Link," he said.
It wasn't easy. Chrysler rejected Christensen "over and over and over again." But he was persistent and eventually he convinced them of the need in this part of the state and was granted the dealership Business Link status.
"It'll be great for agricultural, trucking, manufacturing and construction industries for this area," he said.
Business Links are located in Spokane, Everett and Portland. And now Grandview, too.
In addition, Mid-Valley is also now an Alumaweld boat dealer.
"They are one of the oldest aluminum boat manufacturers in the world and they build a lot of quality into their product," said Christensen. "We've actually sold a bunch of them. I'm really pleased with how well they've done."
Christensen said adding boats and RVs has been a fun experience for the staff.
"Sometimes it's more fun to sell those because people are buying them for fun and they're excited."
When it comes to selling the boats, he said, "We get to take (the new owner) down to the river and show them how it works, talk about boater safety, how to unload and load them."
With the 15,000 square foot expansion, Christensen said a minimum of four new employees will be added and possibly more. In fact, he said he has an immediate need for service techs right now.
Already, the service department's hours have been extended from 7 a.m. to 7 p.m. Mondays through Fridays.
Construction, to the service department, which is being done by Columbia River Steel, should be complete by mid-September.