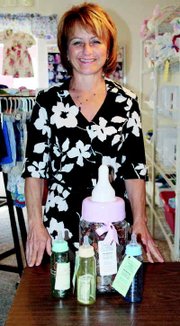 GRANDVIEW - Life Options has been conducting its annual baby bottle drive for more than seven years and this year's fundraising efforts are proving successful for the non-profit organization.
Executive Director Jan McDonald said the campaign runs from Mother's Day to Father's Day each year. Donations for the organization have nearly matched those of the 2007 baby bottle campaign.
"We raised more than $6,900 last year," she said, stating the baby bottles that have been turned in to date contained more than $6,600, with three churches left to be collected from.
Each February McDonald sends letters to local churches, asking them to participate in the fundraiser. The churches respond, stating how many baby bottles will be needed for their congregations.
"We typically distribute one baby bottle per family to area churches (participating in the fundraiser),' said McDonald.
This year, 23 churches participated and the donations are in the process of being gathered. McDonald said the challenge for the churches isn't in getting members to donate, so much as it is for them to collect the bottles from the members.
She said she is amazed at the response from those donating to Life Options, adding that even small churches contain members with a generous spirit.
"It's astounding," McDonald said, stating the people who attend the churches that participate seem to have very giving hearts.
"They support and love Life Options," she commented. She said many who provide funds for the organization believe in the services and the impact on families and individuals in need of the services provided by Life Options.
McDonald said once the money is collected, staff members at the organization are provided the use of the coin machine at Sunnyside's Yakima Federal Savings and Loan. "They are gracious enough to allow us to use the machine each year," she stated, saying she feels the bank's cooperation is invaluable considering most donations are in the form of change, with a few bills and checks in the mix.
She said she is most grateful for the fact that the baby bottle drive is so successful because it can often be difficult for non-profit organizations such as Life Options to obtain funding during the summer months.
"It (the fundraiser) comes at a great time of year," McDonald commented.