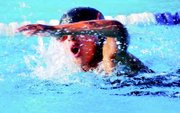 GRANDVIEW - Last night's 561-240 victory over the Grandview Neptunes gave the Sunnyside Sharks a Mid-Valley Summer Swim League best record of 11-1.
The summer swim season comes to a close this coming weekend at the 40-yard Prosser pool, where the league championship meet will be staged. The host Piranhas and the Selah Dolphins, who along with Sunnyside earned the top three spots in the league standings, are the favorites to win the league crown at the July 25-27 championship meet. Also competing this coming weekend will be the Grandview, Toppenish, Wapato and Naches summer swim clubs.
In besting Grandview (3-9) last night, the Neptunes had few answers for the wave after wave of swimmers Sunnyside poured into the 40-yard pool. The Sharks have one of the biggest rosters of the seven Mid-Valley Summer Swim League teams, the Neptunes one of the smallest.
All told, the host Grandview team came away with 18 victories Wednesday evening, compared to the 56 wins the visiting Sharks compiled. That gave Sunnyside a 322-106 scoring advantage. In the points totals from the second, third and fourth place finishes, the Sharks outscored the Neptunes by a 239-134 margin.
The most telling point of the evening was the superiority of the Sharks in the girls events. Grandview failed to garner even one victory in those races.
Sunnyside's female contingent was led by sisters Kaitlyn and Marisa Broersma, who won all five events in the 18&U and 14&U events, respectively; and Alissa Martin and Katelyn Banks, four-time winners in the 16&U and 10&U age divisions, respectively. Also excelling were the Sharks' Jolissa Mendoza and Emily Banks, two-time winners each in the 8&U races; and teammate Brittany Broersma, a three-time winner at girls 12&U. Sunnyside's Madi Marquez brought home a pair of wins, at 12&U, as well.
Grandview found its success from the five-some of Ryan Contreras, Spencer Blanshan, Matt Concienne, Keagan Christensen and Jose Castilleja. Together, they earned 15 of the Neptunes' 18 wins on the night.
Jennie McGhan/Daily Sun News
Sunnyside Sharks 10&U competitor Emilee Maldonado competes in the freestyle leg of the 160-yard medley relay.
Sunnyside 561
Grandview 240
160-YARD MEDLEY RELAY
Girls 10&U
1st-Sunnyside (K. Banks, K. Bestebreur, L. Schilperoort, A. Harrington) 2:26.60
Boys 10&U
1st-Sunnyside (B. Murphy, M. Marquez, F. Rodriguez, T. Valenzuela) 2:43.03
Girls 12&U
1st-Sunnyside (M. Marquez, L. Anderson, B. Broersma, J. Rodriguez) 2:08.34
Boys 12&U
1st-Sunnyside (T. Tyhuis, J. Martin, C. Schlenker, C. Stiltner) 2:17.75
Girls 14&U
1st-Sunnyside (M. Broersma, C. Rollinger, A. Newhouse, T. Van Corbach) 1:56.54
Boys 14&U
1st-Sunnyside (T. Stiteler, C. Vargas, G. Stutesman, F. Rodriguez) 1:53.44
Girls 18&U
1st-Sunnyside (K. Wedam, K. Broersma, M. Stamschror, A. Martin) 1:54.44
Boys 18&U
1st-Grandview (S. Blanshan, K. Christensen, M. Concienne, R. Contreras) 1:46.09
40-YARD BUTTERFLY
Girls 8&U
1st-J. Mendoza (S) 45.72, 2nd-E. Banks (S) 46.28, 3rd-A. Maldonado (S) 49.50, 4th-M. Diener (G) 50.50
Boys 8&U
1st-C. Rodriguez (S) 48.90, 2nd-P. Zecchino (S) 1:06.53
Girls 10&U
1st-K. Banks (S) 34.97, 2nd-L. Schilperoort (S) 36.15, 3rd-A. Graham (G) 38.75, 4th-S. Russell (G) 39.41
Boys 10&U
1st-F. Rodriguez (S) 37.44, 2nd-M. Binfet (G) 41.28, 3rd-M. Marquez (S) 44.66, 4th-T. Valenzuela (S) 47.68
Girls 12&U
1st-B. Broersma (S) 26.84, 2nd-M. Marquez (S) 27.90, 3rd-K. Trinidad (G) 34.32, 4th-M. Marquez (G) 35.56
Boys 12&U
1st-J. Castilleja (G) 27.69, 2nd-T. Tyhuis (S) 28.54, 3rd-N. Ramirez (S) 33.84, 4th-C. Schlenker (S) 37.37
Girls 14&U
1st-M. Broersma (S) 25.28, 2nd-A. Newhouse (S) 26.94, 3rd-T. Van Corbach (S) 27.63, 4th-T. Owens (G) 28.06
Boys 14&U
1st-C. Vargas (S) 23.31, 2nd-T. Stiteler (S) 24.00, 3rd-F. Ruiz (G) 26.47, 4th-J. Churchill (G) 27.47
Girls 16&U
1st-A. Martin (S) 26.16, 2nd-K. Wedam (S) 26.71, 3rd-A. Tadlock (S) 38.69, 4th-A. Partch (S) 41.90
Boys 16&U
1st-R. Contreras (G) 22.93, 2nd-S. Blanshan (G) 23.21, 3rd-M. Hatfield (S) 26.69
Girls 18&U
1st-K. Broersma (S) 24.50, 2nd-M. Stamschror (S) 31.00, 3rd-D. Stuber (G) 36.81, 4th-J. Wedam (S) 38.75
Boys 18&U
1st-M. Concienne (G) 25.68, 2nd-K. Christensen (G) 35.84
40-YARD BREASTSTROKE
Girls 8&U
1st-E. Banks (S) 45.97, 2nd-K. Colson (G) 46.09, 3rd-A. Martin (S) 46.71, 4th-M. Diener (G) 48.28
Boys 8&U
1st-W. Lakins (G) 54.78, 2nd-P. Zecchino (S) 55.34, 3rd-A. Sanchez (S) 1:17.59
Girls 10&U
1st-A. Davis (S) 37.91, 2nd-K. Bestebreur (S) 38.85, 3rd-A. Graham (G) 39.40, 4th-K. Banks (S) 39.50
Boys 10&U
1st-M. Binfet (G) 35.34, 2nd-F. Rodriguez (S) 37.58, 3rd-M. Marquez (S) 39.42, 4th-T. Valenzuela (S) 42.63
Girls 12&U
1st-B. Broersma (S) 31.68, 2nd-M. Marquez (S) 34.91, 3rd-L. Anderson (S) 35.00, 4th-V. Lopez (G) 36.15
Boys 12&U
1st-J. Castilleja (G) 33.37, 2nd-J. Martin (S) 34.44, 3rd-T. Frank (S) 34.81, 4th-T. Tyhuis (S) 36.13
Girls 14&U
1st-M. Broersma (S) 28.60, 2nd-A. Newhouse (S) 33.22, 3rd-T. Owens (G) 34.03, 4th-K. Phillips (G) 35.82
Boys 14&U
1st-C. Vargas (S) 29.07, 2nd-T. Stiteler (S) 30.22, 3rd-F. Ruiz (G) 31.71, 4th-G. Stutesman (S) 32.35
Girls 16&U
1st-K. Wedam (S) 35.88
Boys 16&U
1st-S. Blanshan (G) 30.40, 2nd-R. Contreras (G) 31.53, 3rd-M. Hatfield (S) 31.65, 4th-S. Jaquish (S) 33.22
Girls 18&U
1st-K. Broersma (S) 27.53, 2nd-M. Razey (S) 34.59, 3rd-M. Stamschror (S) 36.96, 4th-D. Stuber (G) 37.97
Boys 18&U
1st-K. Christensen (G) 33.93, 2nd-M. Concienne (G) 38.00
40-YARD BACKSTROKE
Girls 8&U
1st-E. Banks (S) 44.97, 2nd-J. Mendoza (S) 46.89, 3rd-A. Martin (S) 47.37, 4th-M. Diener (G) 47.65
Boys 8&U
1st-C. Rodriguez (S) 45.95, 2nd-P. Zecchino (S) 46.78, 3rd-W. Lakins (G) 56.56, 4th-A. Morales (G) 1:02.92
Girls 10&U
1st-E. Banks (S) 33.41, 2nd-L. Schilperoort (S) 38.25, 3rd-N. Oxley (G) 38.59, 4th-S. Hazzard (S) 40.65
Boys 10&U
1st-F. Rodriguez (S) 37.91, 2nd-B. Murphy (S) 41.37, 3rd-T. Valenzuela (S) 43.50, 4th-J. Mendoza (S) 47.75
Girls 12&U
1st-M. Marquez (S) 28.97, 2nd-B. Broersma (S) 29.59, 3rd-T. Perez (G) 31.28, 4th-L. Anderson (S) 35.50
Boys 12&U
1st-T. Tyhuis (S) 32.09, 2nd-J. Castilleja (G) 36.31, 3rd-N. Ramirez (S) 37.38, 4th-C. Stiltner (S) 39.40
Girls 14&U
1st-M. Broersma (S) 28.72, 2nd-K. Phillips (G) 32.88, 3rd-A. Newhouse (S) 33.57, 4th-C. Rollinger (S) 34.41
Boys 14&U
1st-T. Stiteler (S) 29.41, 2nd-F. Ruiz (G) 30.65, 3rd-J. Churchill (G) 31.21, 4th-C. Vargas (S) 36.85
Girls 16&U
1st-A. Martin (S) 29.37, 2nd-K. Wedam (S) 31.88, 3rd-A. Tadlock (S) 35.37
Boys 16&U
1st-S. Blanshan (G) 25.62, 2nd-R. Contreras (S) 26.68, 3rd-M. Hatfield (S) 29.03, 4th-S. Jaquish (S) 29.06
Girls 18&U
1st-K. Broersma (S) 27.88, 2nd-M. Razey (S) 35.06, 3rd-M. Stamschror (S) 37.53, 4th-D. Stuber (G) 38.56
Boys 18&U
1st-M. Concienne (G) 28.03, 2nd-K. Christensen (G) 35.13
40-YARD FREESTYLE
Girls 8&U
1st-J. Mendoza (S) 34.37, 2nd-M. Diener (G) 36.40, 3rd-E. Banks (S) 37.15, 4th-A. Davis (S) 41.19
Boys 8&U
1st-P. Zecchino (S) 33.72, 2nd-C. Rodriguez (S) 34.63, 3rd-W. Lakins (G) 43.53, 4th-A. Morales (G) 56.29
Girls 10&U
1st-K. Banks (S) 29.54, 2nd-K. Bestebreur (S) 31.81, 3rd-C. Castilleja (G) 31.93, 4th-A. Harrington (S) 32.85
Boys 10&U
1st-T. Valenzuela (S) 31.28, 2nd-M. Marquez (S) 31.50, 3rd-M. Binfet (G) 32.62, 4th-F. Rodriguez (S) 32.64
Girls 12&U
1st-M. Marquez (S) 23.15, 2nd-B. Broersma (S) 23.44, 3rd-L. Anderson (S) 25.94, 4th-T. Perez (G) 27.06
Boys 12&U
1st-J. Castilleja (G) 23.09, 2nd-T. Tyhuis (S) 25.20, 3rd-J. Martin (S) 28.78, 4th-N. Ramirez (S) 29.78
Girls 14&U
1st-M. Broersma (S) 22.65, 2nd-T. Van Corbach (S) 24.03, 3rd-A. Newhouse (S) 24.94, 4th-K. Phillips (G) 25.07
Boys 14&U
1st-F. Ruiz (G) 21.34, 2nd-T. Stiteler (S) 21.47, 3rd-J. Churchill (G) 24.38, 4th-G. Stutesman (S) 26.94
Girls 16&U
1st-A. Martin (S) 23.84, 2nd-K. Wedam (S) 26.37, 3rd-D. Newhouse (S) 26.93, 4th-A. Tadlock (S) 30.12
Boys 16&U
1st-R. Contreras (G) 20.94, 2nd-S. Blanshan (G) 21.31, 3rd-M. Hatfield (S) 22.06, 4th-S. Jaquish (S) 23.91
Girls 18&U
1st-K. Broersma (S) 21.53, 2nd-D. Stuber (G) 27.75, 3rd-M. Stamschror (S) 28.31, 4th-J. Wedam (S) 32.34
Boys 18&U
1st-M. Concienne (G) 21.56, 2nd-K. Christensen (G) 35.84
160-YARD FREESTYLE RELAY
Girls 10&U
1st-Sunnyside (K. Banks, K. Bestebreur, A. Harrington, L. Schilperoort) 2:16.00
Boys 10&U
1st-Sunnyside (T. Valenzuela, M. Marquez, B. Murphy, F. Rodriguez) 2:28.63
Girls 12&U
1st-Sunnyside (M. Marquez, L. Anderson, J. Rodriguez, B. Broersma) 1:52.69
Boys 12&U
1st-Sunnyside (J. Martin, T. Tyhuis, C. Stiltner, C. Murphy) 2:04.60
Girls 14&U
1st-Sunnyside (A. Newhouse, T. Van Corbach, M. Broersma, C. Rollinger) 1:45.06
Boys 14&U
1st-Sunnyside (C. Vargas, T. Stiteler, G. Stutesman, F. Rodriguez) 1:45.37
Girls 18&U
1st-Sunnyside (A. Myers, M. Stamschror, K. Wedam, K. Broersma) 1:46.69
Boys 18&U
1st-Grandview (R. Contreras, M. Concienne, K. Christensen, S. Blanshan) 1:43.19
160-YARD INDIVIDUAL MEDLEY
Girls 10&U
1st-K. Banks (S) 2:48.72, 2nd-K. Bestebreur (S) 3:03.58, 3rd-S. Hazzard (S) 3:04.84, 4th-A. Graham (G) 3:12.96
Boys 10&U
1st-F. Rodriguez (S) 2:59.46, 2nd-M. Binfet (G) 3:12.34, 3rd-J. Mendoza (S) 3:40.12, 4th-M. Prieto (G) 3:40.62
Girls 12&U
1st-B. Broersma (S) 2:33.19, 2nd-M. Marquez (S) 2:34.81, 3rd-T. Perez (G) 2:46.13, 4th-J. Rodriguez (S) 2:58.25
Boys 12&U
1st-T. Tyhuis (S) 2:28.41, 2nd-J. Castilleja (G) 2:37.21, 3rd-J. Martin (S) 2:54.44, 4th-C. Murphy (S) 3:13.90
Girls 14&U
1st-M. Broersma (S) 2:12.32, 2ND-A. Newhouse (S) 2:35.72, 3rd-K. Phillips (G) 2:36.43, 4th-J. Mariotti (G) 2:49.20
Boys 14&U
1st-T. Stiteler (S) 2:16.53, 2nd-J. Churchill (G) 2:17.18, 3rd-F. Ruiz (G) 2:28.03, 4th-G. Stutesman (S) 2:34.79
Girls 16&U
1st-A. Martin (S) 2:24.41, 2nd-K. Wedam (S) 2:34.15
Boys 16&U
1st-R. Contreras (G) 2:09.34, 2nd-S. Blanshan (G) 2:14.47, 3rd-C. Bestebreur (S) 3:18.06
Girls 18&U
1st-K. Broersma (S) 2:06.62, 2nd-M. Stamschror (S) 2:48.06, 3rd-J. Wedam (S) 3:07.46
Boys 18&U
1st-M. Concienne (G) 2:48.58, 2nd-K. Christensen (G) 3:17.44