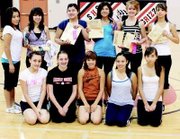 New dance routines and how to break a board with a fist were some of the things the Sunnyside High School Grizzliettes learned while at the Thunderbird Dance Camp in Portland in early July.
"We have attended this camp every year to improve and structure our dance program," Grizzliette Coach Melodie Griffin said.
A total of 15 Grizzliettes made the trip and Griffin said each dancer learned four new routines, with several of them earning trophies for their performances.
Griffin explained that camp participants were split up by their skill level. After learning their new routines the dancers would then perform in front of judges. The top performers in each routine were given trophies.
New routines learned were jazz, precision, character and camp dance.
Of the 492 dancers that attended the camp, Sunnyside Grizzliette Jazmine Salmeron was chosen as one of the top 15 dancers and was named to the Thunderbird All-Star team.
"She didn't win anything but it gives her dance camp street cred," Griffin said.
The Grizzliettes, as well as Griffin, also participated in an exercise to improve their confidence. The girls learned to break a board with their fists.
"It was a breakthrough moment," Griffin explained. "Breaking through your fears will empower you to conquer it all."
Griffin said the adrenaline was so powerful that she didn't feel anything until later.
"It's exhilarating," she added.
The camp had the effect on her team that Griffin wanted, noting the Grizzliettes returned home more confident, better dancers and ready to work.
It's created a buzz among team members. The Grizzliettes advanced to District competition last year and Griffin said for the 2008-09 season her sights are set on earning a State championship.
Rod Smith/Daily Sun News
Sunnyside Grizzliette Jazmine Salmeron was named to the Thunderbird All-Star team for her performance at the dance camp. Her coach said the honor gives the young Grizzliette dance camp street cred.