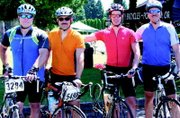 What started out as a way to get in shape turned into a 200-mile odyssey for four local men.
Tim Thompson, Troy Fodor, Huston Osborn and Kal Fuller participated in the Seattle to Portland bike ride July 12 to help raise money for the Cascade Bicycle Club in Seattle.
The money will be used to promote bicycle awareness and the club uses the funds to get new bike paths built when there is new road construction going on.
For bike riding veterans Fodor and Thompson this was their second year of participating in the race. In turn, they both got rookie riders Osborn and Fuller to come along for the ride.
"Tim asked me if I wanted to try it and I started training in April," Osborn said.
For Fuller, it was Fodor who told him about the bide ride.
"It sounded interesting to me," Fuller said. "For me it was a fitness goal. I had a date and something to do."
Thompson said he started biking as a way to stay in shape. He said he used to do more extreme sports but after starting a family wanted to do something less dangerous.
The foursome made the 200-mile trip in just 15 hours. The trip took them from Seattle down back roads following I-5 to a park in Portland.
"It was a learning experience but I'm looking forward to next year," Osborn said.
He said he found the ride hard, especially after the 150-mile mark.
"Once I hit 150 miles I just felt wiped out," he added.
Asked if the hills were tough on him he answered, "They were for me."
Even so, Osborn has committed to doing the ride in 12 hours next year.
The race was also tough for Fuller, even though he put in 1,800 training miles before the ride.
"The race was fun," Fuller said. "I was nervous because it was my first time."
He said the biggest obstacle was figuring what to put in his body.
"You have to find the right balance of electrolytes, carbohydrates, water and your pace," Fuller explained.
The group averaged 15 mph, a pretty stiff pace for a new rider, Fuller said.
He said he trained about three times a week for the ride and plans on participating again next year if he can find the time to train.