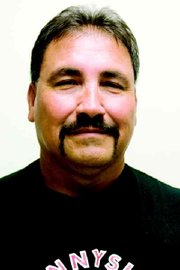 Bob Sarmiento Sr. has been on the Sunnyside sports scene for the past 28 years.
With his recent appointment by Sunnyside Mayor Paul Garcia to the Sunnyside Parks and Recreation Commission, Sarmiento will now have a stronger voice concerning the city's recreational activities.
"It was kind of surprising but I'm happy to be on the commission," Sarmiento said.
He has applied for the commission every time an opening came up the past six years so he's happy he's finally been appointed.
Sarmiento's number one priority when he begins work on the commission is the youth of Sunnyside.
He said encouraging kids to find a sport they like when they young can have big benefits later down the road.
He believes the advantages of getting a kid off the street and into a sport are immeasurable in the long run.
"We need to offer these opportunities," he said. "Now I will have a say-so in some of these options."
Sarmiento is interested in getting the area youth interested in all kinds of sports, not just to win, but to have fun.
"Success isn't measured by wins," he said. It's whether they've learned something at the end of the season."
Sarmiento, who oversees the Lower Valley Men's Slowpitch Association, also wants to keep park fees down in the city. He said he is interested in learning how the commission establishes park fees.
"I'm looking forward to working with the other commissioners to hopefully improve things," he added. "I'm going to throw some ideas at them and see what they think."