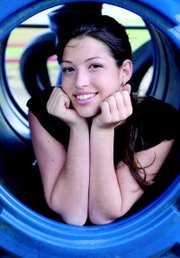 When Hannah Marro was just three years old, she was encouraged to dress up in an outfit that told the world what she wanted to be when she grew up. For the then-wee-one, the answer was simple enough: Marro donned a tiara, pretending to be Miss Sunnyside. Now, 13 years later, Marro just may get to don a tiara following the 2008 pageant this coming September.
"Ever since I was three and dressed up as Miss Sunnyside in the Sunshine Days Parade, I have wanted to represent our community," says Marro.
Her goal is simple enough: she wants to be a positive role model.
In one respect, she already is. She's big sister to Josie, 12, and Madison, 10.
"I'm used to being the one in charge," she explains. "They're always looking up to you, no matter what you do."
Vexed by choosing something to display in the talent portion of the pageant, Marro, the natural jokester, created a humorous skit. The title: "Creating a Talent."
Says Marro, "Humor-that's what I really wanted to go for. I didn't want to just sing or just dance. I want to interact with the audience and make them laugh."
Vying for the title of Miss Sunnyside is actually a family affair. Her cousin Molly Dolan, who currently serves on the court as first princess. And, she adds, "My aunt, Molly's mom, ran years ago."
Even her community service project is pertinent to her family life. Should she be selected as Miss Sunnyside, she plans to work with Lower Valley Hospice and Heartlinks Pediatric Care.
"Hospice is very personal," she said, explaining that her grandfather, Dr. Richard Kirk, started up the organization here in the Lower Valley with two other doctors many years ago.
"And grandpa Marro, they helped him when he was sick," she said. "It shows me how small the world is, with grandpa bringing it here to the Lower Valley and my other grandpa using (the services)."
Marro said she wants to help hospice by providing administrative support, but also by doing chores for families currently enduring the end of life process with a loved one.
That way, she says, "They can focus more on their loved one and less on their responsibilities."
She'd also like to raise money, and conduct toy and children's clothes drives for Lower Valley Hospice's pediatric outreach program.
Marro, a student at Sunnyside High School, can best be described as athletic. She plays soccer, volleyball, basketball and tennis. "I'm competitive in nature," she says.
Marro says she loves the "small town feel" of Sunnyside, especially seeing the tremendous community support at local sporting events and high school activities.
At school, her favorite class is American history. "I like learning about where we came from and figuring out all the hidden secrets of our country."
Marro, the daughter of Mark and Heather Marro, hasn't landed on a college of choice yet, but one thing is certain: when she does go to college she'll be sticking close to her family.
While she's a bit nervous about the upcoming pageant (she says, "I'm a little nervous, but I think everybody is") she's also looking forward to it and already enjoys getting to know her fellow candidates better.
Marro's sponsors for the pageant are Harold's Repair and Rental, Shellie's Hair Designs, Noble's and the Law Firm of Lang, Powell, Spears and Lubersky in Seattle.
Hannah Marro, the daughter of Mark and Heather Marro, will compete for the title of Miss Sunnyside in September. Marro can best be described as athletic, with a passion for soccer, volleyball, basketball and tennis.
&nbsp