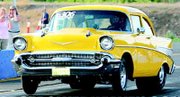 KENT - Race after race, weekend-in and weekend-out for the most part, he's spent the last 22-plus years roaring down a quarter-mile strip of asphalt in all of about 10 seconds. During that two-decade span, the Sunnyside drag racer has earned five NHRA Pacific Northwest Division 6 titles, as well as two "Shootout" championships.
Old hat, right? It would be easy to believe that for Sunnyside's Wayne Linder Jr. the thrill is gone, even taking into consideration the rush of adrenaline he gets at neck-snapping speeds each time he pilots his dragster across the quarter-mile strip of hard pavement.
And, in some respects, Linder doesn't get the same kick from the sport he once did.
But last weekend, the 38-year-old Sunnyside speed demon felt like that kid of 16, when he first got behind the wheel and peered out through the windshield at the starting line Christmas tree that was to signal the beginning to his long drag racing career.
Competing at Kent's Pacific Raceway this past weekend, at Schuck's Auto Supply NHRA Nationals, Linder advanced through the first five rounds and found himself in the finals of the Super Street class entries.
"First time I've ever made it to the finals at a national event," beamed Linder. "It would be nice to say that I won it, but I had to settle for a runner-up finish."
Turns out, Linder red-lighted at the starting line, basically handing the Super Street title to his opponent, Jeff Jackson of Wilsonville, Ore. For the veteran Jackson, it was his fourth career victory at a national NHRA competition.
Sadly, had Linder not jumped the green light, he would have had an excellent opportunity to beat Jackson. The Wilsonville drag racer clocked a time of 10.95 seconds in the finals, a full five one-hundredth's of a second slower than the 10.90 index. Linder, in his five previous runs, had been posting quicker times, evidenced by his 10.91-second clocking in the semi-finals.
These days, a second place finish at an NHRA Division 6 event would send Linder scowling back to the pit area. That wasn't the case last weekend.
"When I first started competing in the Division 6 events, I was very pleased with a runner-up finish," he said. "But after awhile, with runner-up after runner-up finish, you kind of dread finishing second.
"You've been there in second, and you're looking to get over the hump.
"But second last weekend at a national event...I can't say I was upset at all. Actually, I came away from it feeling very pleased," Linder chirped.
"I had never made it to the finals at a national event before, so just to get there was pretty big for me, especially when you looked around and saw all the big-time pros there," he added.
Drag racing buffs interested in catching Linder in action last weekend can tune in to ESPN-2 this coming Sunday. The sports broadcasting company plans to air the national NHRA event from Kent's Pacific Raceway at 8:30 a.m.