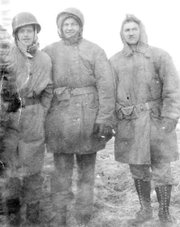 When a volcano erupted on Alaska's Aleutian Islands earlier this month, memories from 65 years ago came flooding back for Sunnyside's William Amsden.
Amsden's Alaskan adventures began when he was stationed in California, where his unit was being groomed to serve in Africa.
All that changed, though, when the Japanese bombed Alaska's Dutch Harbor in June of 1942.
By July 4, 1942, Amsden's unit landed at the Aleutian Islands.
The United States military's decision to station units at that location in Alaska, Amsden said, was quite a shock to the Japanese.
"The Japanese intelligence had no inkling of the Army's activity on Umnak Island," he said.
As soon as the Japanese bombed Dutch Harbor, United States fighter planes set to the skies, attacking the bomber planes.
"I think they (the Japanese) fully intended to occupy the main island, but then these planes went up," he surmised.
When Amsden's unit was deployed the next month, he said, "They called us in and told us they didn't know what the Japanese were going to do.
"But we were told to hold them if we could."
Amsden lived there for two and a half years.
"The island itself is about 70 miles long and shaped like an hourglass," he recalled. "We had outposts at each end of the island and lived in dugouts."
Among his experiences while stationed at Umnak Island was almost losing his life, he recalled, thanks to a bad choice of a fellow soldier.
Amsden was using a giant Caterpillar to haul a truckload of ammunition. He was towing the truck through snowy terrain. The driver of the truck, Amsden said, "rushed up on me and got stuck, breaking the chain."
When that chain broke, it snapped back at Amsden's caterpillar, smacking the plated metal just two inches below his neck. The plated metal stopped short just below his neck.
Amsden's service came about because of the draft. Of it, he said with a smile, "It's the only drawing I ever won.
"I went in for a year's training and got out five years later."