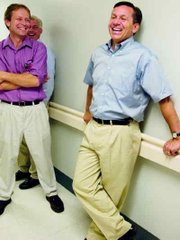 Gubernatorial candidate Dino Rossi made a campaign stop in Sunnyside last Friday, spending about 30 minutes touring the recently renovated emergency department at Sunnyside Community Hospital.
Rossi was greeted by members of the hospital board and state representatives Dan Newhouse and Bruce Chandler.
Rossi spent last Friday speaking with the Prosser Chamber of Commerce, visiting the Sunnyside hospital and then threw out the first pitch at the Yakima Bears game before heading home.
Rossi toured the hospital's newly remodeled ER department that was completed back in December. With Sunnyside Community Hospital CEO Jon Smiley and ER Director Elizabeth Bonham by his side, Rossi asked how many people the hospital serves.
Smiley said the hospital's service area is approximately a nine-mile radius and serves about 40,000 people.
Bonham explained to the Republican governor hopeful there is one doctor constantly on duty in the ER department and a PA-C on duty from 10 a.m. to 10 p.m.
Asked what would happen if more than one emergency patient came into the hospital at night, Bonham explained the protocol to Rossi. She said there is usually at least one surgeon on call and more staff can be called in.
Sunnyside Community Hospital is unique in it's only one of two rural hospitals in the state that isn't funded by a taxing district. Rossi asked from where the hospital gets its funding.
"Medicaid and Medicare mostly," Smiley answered. "The rest comes from fundraising. We're truly a community hospital."
"It's a nice facility," Rossi added.