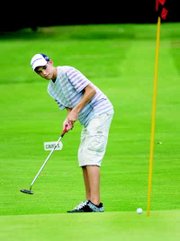 J.J. Wood of Selah and Nick Rodriguez of Sunnyside posted the low 18 and nine-hole scores, respectively, in AAU competition at Sunnyside's Black Rock Creek Golf Course this past Saturday.
Wood, a boys 19&U competitor, carded a 6-over-par 78.
Competing in the boys 10&U, nine-hole division, Rodriguez shot a tourney-low 57.
A total of 13 youngsters showed up for the Saturday, July 26, AAU tournament. A complete listing of the tourney participants follows:
Boys 19&U
J.J. Wood 78
Boys 16&U
Cameron Schmidt 85
Jimmy Wood 96
Boys 14&U
Devin Bender 84
Bo Wangler 87
Wade French 88
Chan Luther 91
Steve Rodriguez 91
Boys 12&U
(Nine holes)
Patrick Williams 69
Boys 10&U
(Nine holes)
Nick Rodriguez 57
J.D. Munn 65
Dillon Luther 68
Boys 8&U
(Nine holes)
Treyton Parrish 72