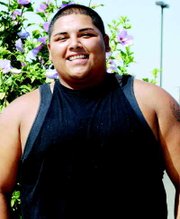 Since he was a young child, Sunnyside's Joe Rodriguez has been singing and now he has hopes of becoming the next American Idol.
The teen, who will be a senior at Sunnyside High School in the fall, said he grew up singing along with his family members.
"My grandpa was always singing," Rodriguez stated.
Throughout his younger years, Rodriguez made a name for himself in Sunnyside. He has garnered the support of friends and family members who believe in his vocal talents.
Those supporters encouraged the young man to audition for the popular television talent contest, American Idol, which airs on Fox.
"It feels good to have so much support," Rodriguez said, stating he feels that no matter how well the auditions go, he will continue to have the support of those in Sunnyside.
Today (Tuesday) is his big day. He will be at the EnergySolutions Arena in Salt Lake City, Utah, showcasing his talent.
Rodriguez spent this past weekend raising funds for the trip, hoping he will be successful in his attempt to join the many contestants headed to Hollywood.
"I just hope to make it past the first round," he said with a smile.
If the judges feel Rodriguez's talents are "up-to-par" they can immediately send the young hopeful to Hollywood. However, they may require the young man to perform again before making the final decision.
If he does make it to Hollywood, Rodriguez will be subjected to further cuts until 24 remaining contestants are left, 12 men and 12 women.
Rodriguez said his style of music is rhythm and blues and "slow jams." He said he will perform an "Old School Slow Jam" at today's auditions. He didn't have a particular song in mind, however.
He said viewers of the television show, which airs on Fox, will begin voting once the top 24 vocal performers are selected. Those with the lowest number of votes are eliminated from competition.
The grand prize for the next American Idol will be a $1 million record deal with a major label and a new car, according to Rodriguez.
There are eight audition sites for season eight of American Idol, which airs in January 2009. Of the thousands of hopefuls who will be at the auditions, Rodriguez is one. He said he is setting his sights on just taking each step one at a time.
"If I make it past round one, that would be great," he stated enthusiastically.