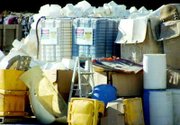 GRANDVIEW - Getting rid of plastic pesticide containers has just gotten a whole lot easier for farmers and licensed fertilizer and chemical dealers now that Dave's Recycling Center in Grandview has expanded its services.
"We can take them no matter what the size," said recycling center owner Dave Nagle. "We just take it all."
Nagle said that in the past, it has been very difficult for farmers to rid themselves of the containers, although there was a business in Moxee that could take them. He said that particular business owner had difficulty with both the volume and making contact with the growers.
He said frustration among farmers led him to seek a solution.
Nagle said an important rule of thumb is to make recycling as easy as possible for his customers.
According to state law, the plastic pesticide containers must be triple rinsed before Nagle can accept them.
Nagle said when it comes to plastics, there are several different grades, but he handles that, not the grower.
"With the density and variety of plastic, it has to be carefully sorted," he explained. "We don't expect the grower to do that, it's asking too much. I want to make it as easy for the growers and pesticide dealers as possible."
Since he's been accepting the pesticide containers, he's had no trouble. "The cooperation we're getting from the growers is just phenomenal. Most of the growers, all they want is to do the right thing.
"They're just grateful to have a place to recycle and do it in a legal way," Nagle said.
A lot has changed since he took over the business in 2001.
"We used to have between eight and 10 people a day. Now it's between 60 to 80," Nagle said.
He said some of his customers come from as far away as Goldendale. "When you start talking mileage, that's significant."
He added, "Recycling isn't easy for the people (bringing the items in) or the recycler."
That's why it's so important to make it easy for the customer. And that's why there are few restrictions when bringing items in. He said that some recycling places request that aluminum cans be whole when they are brought in. At Dave's Recycling Center, "We don't care if they're whole or smashed." And the same philosophy applies for cardboard, it can be flattened or still intact when it's brought in.
The recycling center in Grandview also accepts non-ferrous metals. An easy way to identify those types of metals is with magnets, he said. Magnets won't stick to a non-ferrous metal.