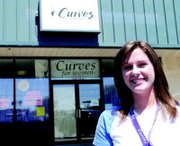 Patty Levan, daughter of Marty and Peggy Beeler, recently moved to Sunnyside to be closer to her parents. Since then, she has purchased the Sunnyside Curves center, located at Mid Valley Mall.
Levan said she needed "something to do," and began searching for a business opportunity in the area. In her search, she happened across a listing for the Sunnyside Curves location on Craigs List.
The owners of the weight loss and fitness center, Davy and Diana Bardessano, according to Levan, felt they weren't able to dedicate enough time to the business, which was opened nearly seven years ago.
Levan felt the opportunity was a perfect fit for her. She said she had once considered opening her own Curves prior to living in Sunnyside and after moving, she felt the timing couldn't be better.
She began the process of taking over ownership of the women's fitness center this past April. The paperwork was completed just last week and Levan said she couldn't be happier.
"I feel Curves is a good fit for selfish reasons," she explained, stating she enjoys maintaining fitness and serving those with special needs.
Levan said those who suffer from a disability, such as her mother, are in need of a program that will assist them in continuous fitness.
Curves incorporates a 30-minute workout routine and weight management program with advice on nutrition via one of two separate programs designed to meet the needs of the individual.
The two workout programs are designed to help individuals from beginners to advanced, and a personal trainer adds a needed personal touch to the program.
Levan said each individual involved in the Curves program is assessed for the purpose of being provided the program that best suits their needs.
She said she especially enjoys the interaction with members of Curves because "...I like to talk."
As the new owner of Curves, Levan said she has hopes of appealing to new members, helping the members support one another and providing an atmosphere of friendship.
She said she wants to repaint and decorate the interior of the business for the purpose of providing an atmosphere that is both welcoming and comfortable for members.
"It should be a place where women want to be," Levan said.
She said she feels with Sunnyside's growing population, it is a great community for businesses. She added that the sense of community is also a benefit, stating people enjoy developing connections and relationships.
Levan's manager, Annabelle Hernandez, has been with Sunnyside Curves since it opened. Levan said she feels Hernandez is an asset to the business and will continue providing excellent service to members.
"I will be here, that is the biggest difference in staffing...I want to help Hernandez any way I can," Levan said.
Feeling confident about the new business venture, Levan said she is proud of all that Curves represents. She said Curves International assists franchise owners, providing a bevy of support.
"I am proud to now own my own Curves," she stated.
. Jennie McGhan can be contacted at (509) 837-4500, or e-mail her at jmcghan@eaglenewspapers.com