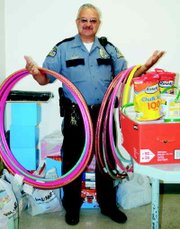 Sunnyside community members have much to anticipate this year during the National Night Out observance.
Sunnyside Police Officer Chico Rodriquez and police chief assistant Charlotte Hinderlider have been working hard to plan this year's events. They have gathered donations and gained participation from a number of organizations.
The kick-off party, planned for Monday, Aug. 4, will take place at Sunnyside's Central Park.
At the park a number of activities and resources will be available for the community's enjoyment. Hinderlider said a hula hoop contest courtesy of Central Washington Comprehensive Mental Health will take place and prizes will be given to participants.
"Also, a cakewalk," said Rodriquez, stating a cakewalk will be provided by the Sunnyside Wal-Mart store.
The pair said local residents will be afforded a number of resources from several organizations, such as Yakima Health District and Washington State University Tri-Cities. They said each of the organizations will also provide those in attendance with items, such as pens and pencils.
The health district will have its handwashing station, Norteña Paleeria will provide 1,000 ice cream bars, and Sunnyside's police and fire department vehicles will be on display.
Hinderlider added that other law enforcement agencies, such as the Washington State Patrol, Yakima County Sheriff's Department, Mabton Police Department and Granger Police Department will also have vehicles on display. In addition, Sunnyside's C. Speck Motors will provide vehicles for display at the event.
Activities included at the Aug. 4 event will include face painting, a dinosaur excavation, Charro horses and a dunk booth.
"All activities will be free of charge except the dunk booth because it will be there to benefit Special Olympics," said Hinderlider. She said softballs for the booth will cost 25 cents apiece or five for $1.
"We will also launch crimereports.com at the kick-off," said Rodriquez.
He said crimereports.com is a website that will allow citizens to look up crime data.
The Sunnyside pool will be open to all community members during the event, free of charge. From 5:30 to 8 p.m., those wishing to enjoy the community pool can do so.
Hinderlider said hot dogs, chips and beverages will be available for consumption, and J&S Jumpers is providing their jump rooms for the community's enjoyment.
Also at the event, Sunnyside's Rebecca Rodriguez will open the evening with her rendition of the National Anthem and the Lower Valley VFW color guard will present the flag.
Tuesday, Aug. 5, National Night Out block parties will be held in Sunnyside. They will be staged at South 11th Street and Tacoma Avenue, Kristen Avenue in the Aho housing development, 709 Crescent Avenue, 529 Dayton Drive, Flower Street, 805 East Franklin Avenue, 532 Franklin Court, Grace Brethern Church at South Eighth Street and East Franklin Avenue, Kiwanis Park, 112 Patrick Court, 2261 Ray Road, South Seventh Street, 521 Terry Street, Sunset Heights and the middle of 14th Street near North Avenue.
Special events at the block party in the Aho housing development will include 300 ice cream bars donated by Paleteria La Norteña and a large Sunnyside Fire Department truck, spraying children at the event.
The Crescent Avenue block party has planned storytelling, emphasizing canal safety, and water balloons will be featured at the event.
At Kiwanis Park, two jump rooms will be provided by J&S Jumpers, face painting by Sunnyside's Miss Cinco de Mayo court will be offered and the Coca-Cola trailer will all be available for participants of the block party.
The party on 14th Street will feature guest speakers, members of the Washington State Patrol and bicycle safety tips.
Hinderlider and Rodriquez said they are eagerly anticipating the two-night National Night Out events and they are excited to see the community gather for the purpose of preventing crime.