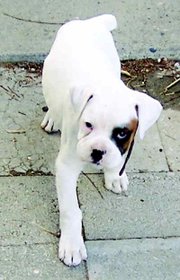 It's been almost six weeks since Pat Kernan lost her 14-week-old puppy, Denver. Despite the efforts of Sunnyside's animal control officer and several sightings, Denver is still no closer to coming home.
Kernan said the almost pure white, deaf boxer got loose after she went to the store and didn't realize her back yard fence was slightly ajar.
"We had just begun teaching him hand signals," Kernan said.
A search went on for Denver but Kernan said since he is deaf, it was a fruitless effort.
Kernan, who lives in the South First Street area, put up signs notifying the public of the lost puppy and soon received a phone call from someone wanting a reward.
"We were so excited he was found," she said. But that elation turned into puzzlement when the caller asked for a reward before returning Denver.
Kernan said the sum of $40 was blurted out, prompting the caller to curse and hang up.
It was then she got the police involved and Sunnyside's animal control officer, Stephanie Reihs.
The officer told Kernan to offer an award and helped her put up signs.
"I really want to thank her," Kernan said.
Reihs kept up on the case and would keep Kernan informed.
Soon another caller dialed Kernan's cell phone, this time claiming they had her dog and had paid $100 for him. The caller wanted the $100 reward but refused to give their name or reveal who they bought the puppy from.
When she said the police got involved the caller hung up and Kernan hasn't heard anything in the last three weeks.
"These people don't realize what they have," Kernan said regarding the deaf puppy. "It will take a lot of time to work with him."
Kernan said she has rescued another dog from the animal shelter since the boxer has disappeared but still wants Denver back. The $100 reward is still being offered and anyone with any information regarding Denver can call her at 305-9447.