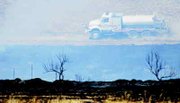 Yakima County Fire District #5 extinguished a large grass fire in the 5600 block of SR-241, just north of Sunnyside, yesterday (Wednesday) just after noon.
The blaze began as a controlled weed burn on the property of Henry Bosma. As winds pushed the fire, it rapidly spread to sagebrush and grass nearby, according to Battalion Chief Todd Lenseigne.
He said the terrain was rough and inaccessible, making it difficult to control the fire. The fire spread to burn approximately 350 acres before firefighters were able to control it.
Firefighters from four of the county's stations raced to the fire, with 20 of them fighting the blaze. They utilized equipment, including water trucks and a track vehicle to contain the fire.
The fire was contained at approximately 2:30 p.m. after it had worked its way into a gully.
No property was lost and no injuries were sustained as a result of the blaze.
Jennie McGhan/Daily Sun News
A fire burned out of control on the property of Henry Bosma just after noon Wednesday. Yakima County firefighters were able to contain it approximately two-and-a-half hours after it began.