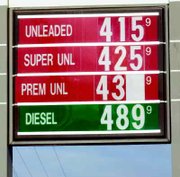 Trucking could be considered the life line of America. Without it, goods would sit on loading docks somewhere, unable to get to market.
All Americans are feeling the pinch of higher fuel prices but none more so than independent truckers, who need to stay on the road to keep from going in the red. With higher fuel prices, that's becoming harder to do and a large number of independent owner-operators are being forced out of business.
Fuel costs are the number one problem truckers are facing today, according to several truckers the Daily Sun News spoke to.
Ron Liebert, a Granger man who drives for a trucking company hauling glass, said he has friends who can remember what it cost to fill up in the 1960's.
"You could fill up a 200 gallon tank for $26," Liebert claims. "Now it's between $850 and $1,000, depending where you're at."
It's a sentiment echoed by Grandview truck driver Michael Lange. According to Lange, it's not only high fuel costs that are driving small owner-operators out of business, it's the freight rate as well.
According to him, freight rates (the fee truckers get paid for hauling goods) haven't risen since the 1970's, while the price of diesel has more than tripled.
What this does is cut the profit margin to almost nothing.
"It's awfully hard to justify putting $1,000 into your tank everytime you fill up," said Gene Lange, a retired regional trucker. "And you fill up every day. That will cause a lot of them (owner-operators) to turn their keys in."
An independent driver, or a small company with just a few drivers, can't survive on such a low profit margin. That's where the bigger trucker companies come in.
They can absorb the higher fuel costs because they have more trucks on the road. A small company with just five trucks bringing in a profit of $100 a day isn't doable. A larger company with 100 trucks bringing in the same amount can survive.
What this will do, according to Gene Lange, is force the smaller driver out and cause prices to rise.
"It's going the same way as agriculture," he added. "They (owner-operators) supported the industry and now they're being driven out of business."
Company drivers don't have to worry about paying for fuel but they lose in other ways.
"It used to be a driver was the major expense for a trucking company," Liebert said. "Now it's fuel costs."
Michael Lange added, "The extra fuel costs the company pays could have been the raise we would have got this year."
If fuel prices climb much higher, Lange said goods that aren't considered necessities might go by the wayside.
"Food has to be hauled," he said. "But people might begin to ask, 'Do I really need all that lumber for the deck I wanted to build'."
Liebert takes a more darker view of the future if fuel prices climb higher.
"It will shut the economy down," he stated.
Licensing fees and tolls are going up as well.
"They won't put people out of business but they are a concern," Gene Lange said.
Michael Lange agreed with that, noting several toll roads have sprung up on the westside of Washington state.
"That (toll fees) comes out of the owner-operator's pocket," he said.
Weight limits aren't a problem for most truckers. Liebert said it's the manufacturers who really get hurt on those restrictions.
But Michael Lange said if a trucker hauls fruit or lumber, then weight restrictions can become an issue.
For these goods the truckers get paid by the weight. Although weight restrictions are put in place to protect roads, Lange pointed out that the more weight a trucker can haul the less truckers there will be on the road.
Parking is also a major concern for Liebert and Michael Lange. They both said there just isn't enough of it for large semi-trucks.
"That will be better when the Granger truck stop opens," Liebert said of the local problem.
While truckers are feeling the pinch, both Lange and Liebert think things will turn around. The price of fuel has dipped slightly and Liebert said he believes prices will drop even further.
"In five years truckers will be hauling even more stuff," Liebert said. "The economy is already showing signs of recovery."
Gene Lange surmised if the fuel prices continue to drop then the independent trucker will be regenerated.
Corey Russell/Daily Sun News
With diesel almost $5 a gallon, smaller trucking companies and independent owner-operators are being forced out of business.