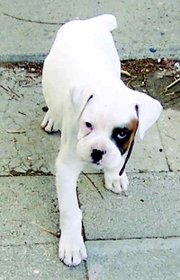 The tale of Denver the deaf puppy had a happy ending last night as he was reunited with owner Pat Kernan Wednesday evening.
Kernan received a phone call last night from a person who had seen an article featured in Wednesday's edition of the Daily Sun News highlighting the puppy's plight.
"He's about five inches taller than he was," Kernan said of Denver, who has been missing for just over a month. "He's also forgot everything we taught him but we're working with him again.
"I can't believe it, all we wanted was to get him back," she added.
The person who turned Denver over to Kernan received a $100 reward.