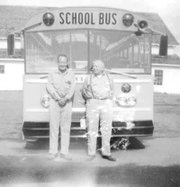 OUTLOOK - Some of the stories are sure to be exaggerated, other tales will most likely have different endings, depending on who is spinning the yarn. But one thing is certain, those who attend this coming Sunday's Outlook school reunion will revel in the memories of years gone by.
"There are many (former Outlook school) students in the area, and we want to continue the yearly reunion," Dorothy Cullen said in hopes of attracting as many Outlook alumni as possible to the Sunday, Aug. 3, gathering.
Cullen said those who attend the 11 a.m. to 3 p.m. reunion at the Outlook school are asked to bring a food dish and utensils for the potluck, "...as well as their memories," she added. "We'll furnish the coffee."
It was more than 50 years ago, 1956 to be exact, when a group of former Outlook High School students came up with the idea to hold a yearly get-together. Of that inaugural group, only one remains...Irl Grove, now a resident of Grandview.
The schoolhouse in Outlook served prep students up through 1934. The high school was then converted to a first through eighth grade school, and over the years has morphed into what is now a rural elementary school that falls under the umbrella of the Sunnyside School District.
All former Outlook students are being encouraged to show up at the school this coming Sunday to share in the comradery and good times.