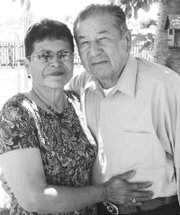 MABTON - Serapio and Elsa Herrera will celebrate their 50th wedding anniversary on Sunday, June 8, by renewing their wedding vows at Mabton Immaculate Conception Church's 9 a.m. mass.
The couple were married in Grandview on June 8, 1958.
Mr. Herrera is a retired custodian for the Mabton School District. Mrs. Herrera operated a daycare and has since retired.
Following the mass, their family and friends will celebrate with a barbecue at the Herrera residence at 1 p.m.
The couple's children, Mary Jane Maltos, Larry Herrera, Della Morris and Marie Galaviz, will host the barbecue.
The couple has eight grandchildren and three great-grandchildren.