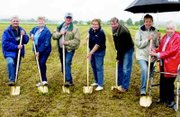 The seeds have been sown for a new industrial park to dot the Sunnyside landscape.
The Port of Sunnyside broke ground yesterday (Tuesday) in a drizzling rain on the future sight of the Swofford and Halma Medical Clinic and Blueline Manufacturing Company, Inc.
"Business and industry are very important to the Port of Sunnyside," Port Commissioner St. Clair Woodworth said. "It is our mission to assist their growth within the district."
The site is located on the west side of State Route 241 between East Edison Road and Sheller Road.
The Port of Sunnyside broke ground on what is called the Reith Way and Van Nutley Drive project. The project consists of building two roads in the business park named after former port commissioners John Reith and Van Nutley.
The medical clinic and manufacturing plant will be located on the southwestern side of the park. Already located on the southeastern side of the park are the Sunnyside YC-Tech satellite classrooms, Provident Horizon Training Center, Sunnyside Beauty Academy and Marti's Flower Carte. Reith Way will connect the two areas and make eight new parcels for additional businesses.
The Swofford and Halma Clinic has been in Sunnyside for the past 50 years and its current location is 30 years old and too small.
By building the new 12,000 sq. ft. facility Swofford and Halma hope to recruit additional high quality practitioners who share their vision of practicing medicine. Swofford and Halma hope to recruit four additional medical providers to the new clinic, which should be open by the spring of 2009.
Blueline Manufacturing Company, Inc., which makes specialty orchard equipment, is expanding its operations to Sunnyside by building a new facility. Construction on their building will begin this summer and they expect the facility to be open by early 2009. The expansion will create 25 new family wage jobs within three years.
After the groundbreaking ceremony the Port of Sunnyside hosted a barbecue.
Corey Russell/Daily Sun News
Sunnyside Port Commissioner St. Clair Woodworth, Mary Lou Schut Ribail, Sunnyside Port Commissioner Arnold Martin, Sunnyside Port Manager Amber Hansen, Sunnyside Port Commissioner Jeff Matson, Bernie Reith Barker and Charlotte Reith Miller (L-R) break ground this past Tuesday on the future site of two new businesses in Sunnyside.