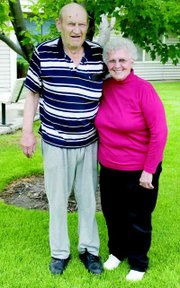 After spending nearly 39 years in the community of Mabton, farming and raising children, Elmer and Marvine Schultz will serve as the grand marshals for this year's Mabton Community Days Parade.
"It's quite a thrill for us," Marvine said.
This is the third time the Schultzs have been asked to be the parade marshals. The first time they accepted the parade was canceled. The second time Elmer said he begged off and suggested someone more worthy, he said.
Elmer moved to Mabton in 1941 and then joined the U.S. Army in 1950. After spending time in Korea, Schultz lived for a bit in Glenwood, where he worked as a logger. It was there he would meet his future wife, Marvine.
Elmer moved him and his bride back to Mabton in 1962, where they stayed until 2001, when they moved to Sunnyside.
In their 39 years they owned a farm, where they raised, "...a little bit of everything," according to Elmer.
Elmer spent 10 years on the Mabton School Board in the late 60s and early 70s, getting appointed the first time and then being re-elected.
"I had to give up my job as a cook at the school district when he was appointed," Marvine said, explaining there couldn't be a conflict of interest.
During his time on the school board Schultz was able to hand each one of his children their diplomas.
He was also involved with the sports programs in Mabton, coaching the basketball "C" squad at the high school for a while.
"He followed those kids to State for years," Marvine recalled.
After the war Schultz joined the Sunnyside VFW but transferred to Mabton's VFW when it first started.
"I transferred to give them help with membership," he said.
When the Schultzs moved to Sunnyside in 2001 Elmer transferred back to the Sunnyside VFW.
Their daughter still lives in Mabton and their grandson lives in the Schultz's old home, complete with the same phone number.
"It's a great privilege for people to ask us," Marvine said of the honor of being parade marshals.