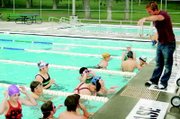 Their numbers are down from 2007, but the Sunnyside Sharks summer swim team still figures to have about 100 participants for the coming 2008 season.
That's according to second-year coach Patrick Elerding, who said last year's squad topped out at about 115 swimmers.
Elerding said numbers are particularly down for high school aged swimmers, noting that some moved away or decided not to turn out this season.
Some of the top hopefuls in the high school set are Kaitlyn Broersma, a class 3A State meet high school competitor this past fall, and Elerding's brother Joey, a junior nationals competitor last year.
The coach is especially optimistic that the 14U and 16U girls teams will make the competition take notice.
The news gets even better with the youngest age groups, where Sunnyside has an abundance of new swimmers who have turned out.
"We have a lot of first years. I think younger age groups are going to be the best," Elerding said. "A few joined because they know me or have siblings in the program," he said. Some young swimmers join up because they are taking swimming lessons at the Sunnyside pool, he added.
The youth movement could be a good thing for Sunnyside, as Elerding says teams can sometimes get by if they lack depth in one or two age groups as long as others are stronger.
Elerding as coach is more seasoned, heading into his second year at the Shark helm.
"It's a lot harder job than people think it is. There are a lot things that go into it that people wouldn't think about," he says. "It's difficult to give specific individual attention to 100 kids."
The Sharks finished second to Prosser in league competition last season, and Elerding feels his team has what it takes to compete for a league title this year.
"We have an excellent shot of winning. We're just hoping that those who are returning will be just that much stronger than they were last year," he said.