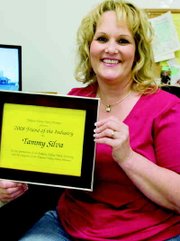 A little bit of planning mixed with a dash of deception was all it took for the Yakima Valley Dairy Women to award Tami Silva with the friend of the industry award last month.
The award was given to Silva at the annual Yakima Valley Dairy Ambassador banquet.
"I was awestruck," Silva said. "I had no idea this was going to happen."
Silva said she had been requested to attend the banquet and she thought it was to support 2007-08 Yakima Valley Dairy Ambassador Julie Wedam, who was giving up her crown. Wedam had been involved with several events at the Dairy Fair, the store Silva manages, during the last year.
"Tami does a lot of things behind the scenes that helps promote the dairy industry," Carol VanSlageren, president of the Yakima Valley Dairy Women, said.
VanSlageren said the dairy women host an annual blood drive and Silva donates milk and cheese for the project.
"She also donates for other projects that we don't sponsor," VanSlageren added.
She also noted Silva's work with the annual Easter egg hunt and said Silva always does what she can to help out the dairy industry.
Silva admits she holds a special place in her heart for dairy producers, recalling that she and her husband used to own and operate one.
"My heart has always been with the producers," she said. "I know how hard the dairy producers work."
She added that dairies go non-stop every day.
"The process never stops," she added.
That is why she thinks it's a good fit where she works. She said she absolutely loves what she does and looks forward to going to work every day.
Silva does a lot of work with the dairy women. She helps out with the booth the organization runs at the state fair. Through the Dairy Fair Silva donates milk for many community events. Then there is the Easter egg hunt where in 2008 approximately 7,000 Easter eggs were filled with goodies for youngsters from all over the valley.
"I think our local dairy industry is phenomenal," Silva said. "Yakima Valley has surpassed Whatcom County in mild production with less farms."
All that took a lot of hard work from the area dairy producers, which makes her award even more special.
To see those producers recognize her efforts,"...It really humbled me."