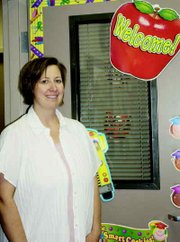 Sunnyside High School Assistant Principal Heidi Hellner-Gomez will take the helm at the newly constructed Sun Valley Elementary School come the fall of 2008.
And there's a lot to do before then.
"Opening up a new building, there's a whole bunch of stuff that needs to get done," said Hellner-Gomez, who then rattled off a to-do list by September.
That to-do list includes moving all the furniture into the building, ordering necessary materials, getting food service and transportation set-up, hiring the necessary support staff and, of course, scheduling the school day.
Hellner-Gomez said it's because the school is brand new that so much needs to be done. "Like making sure the grass is planted," she joked.
Hellner-Gomez began working in the Sunnyside School District as an English teacher in 1992. After that, she worked as a literacy coach for teachers. She said her transition from teaching to administration was a natural progression.
"I decided it was time to do my internship and the course work and move on to the next step," she said.
Now, she'll go from working with high school students to overseeing an entire school devoted to all day kindergarten classes.
Hellner-Gomez said the building is small enough that she won't have an assistant principal.
She said construction should be complete by July and she's eager to show off the new building.
She added that she wants the community to keep their eyes open for an announcement regarding an open-house at Sun Valley, something very important to her.
"We'd really like Sun Valley to be a 'community' (friendly) type center," she said, adding that she's receptive to having community volunteers step forward to assist the kindergarten students in their educational endeavors.
Parents interested in registering their children for kindergarten at Sun Valley are encouraged to call the district office, she said.
&nbsp