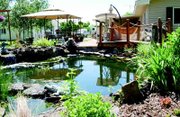 GRANDVIEW - Five gardens will be featured in the Life Options Lower Valley Garden Tour, allowing those on the tour to take in brightly colored flower beds, water features that will amaze, garden structures that provide a sense of peace and serenity, and many delightful garden accents.
The first-ever garden tour benefits Life Options, a non-profit agency serving those faced with life-altering decisions in the Lower Yakima Valley since 1986.
The tour is self-guided and takes place from 10 a.m. to 4 p.m. Saturday, June 14, at the cost of $15 per ticket.
Tickets are available at Sister to Sister in Prosser, Grandview's Ace Hardware store and Morris Floral in Sunnyside.
The garden of Lesly Enos features two ponds, a water wheel and many other wonderful sights. Visitors to the "Garden of Enos" will enjoy the ducks on one of the ponds or revel in the tranquility of one of several sitting areas.
"Country Eclectic" is the description of another stop on the tour, given by Dale and Kym Hill, who have collected a number of treasures to decorate their yard.
Another garden that will be featured on the tour is that of the Hughes, who have a large vegetable garden and a small orchard. The Hughes have added a gazebo and pergola to the landscape to provided added shade.
A koi pond and a bounty of treasures collected during travels far and wide make up the garden landscape at the home of Aaron and Vona Galey. The fifth home on the tour belongs to the Norrels, who have created a two-acre escape for family fun and entertainment, with the help of a professional landscaper.
Life Options encourages community members to purchase tickets and join in on the June 14 fundraising benefit in support of its services.
Jennie McGhan/Daily Sun News
A koi pond at the home of Aaron and Vona Galey is one of many garden features to be seen on Life Options' Lower Valley Garden Tour.
Jennie McGhan/Daily Sun News
This statue of a little boy is one of several treasures Lesly Enos has added to her expansive garden. The "Garden of Enos" is one of five featured landscapes to be seen on Saturday, June 14.