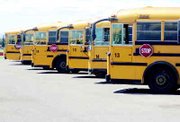 Imagine trying to keep an eye on 80 kids while keeping your eye on the road.
It's near to impossible and the Sunnyside School District took steps this year to address the conundrum.
Superintendent Dr. Rick Cole said bus drivers have been asking for years to have video cameras placed on buses to help monitor student behavior.
With the arrival last year of transportation director Karen Robertson, the school district received additional encouragement to install the cameras.
Robertson came here from the Stanwood School District and said the cameras were so helpful there that she felt Sunnyside needed them, especially after seeing damage done to the interior of the buses here.
The school district started small this year, outfitting five of the 20 buses with cameras at about $3,000 a pop. Robertson said the cameras are easy to remove and rotate between buses so that students never know when they might be on candid camera.
Next year she wants all the buses to roll tape.
Robertson is seeking grant assistance to fund the $45,000 or so that it would take to outfit all Sunnyside school buses with cameras.
It's worth it, she says.
Take the case of one little Sunnyside girl accused of beating up another girl on a bus this year. "No one believed she was capable of it, she was so sweet," Robertson said.
Sweet...and sour, maybe, as the youngster was caught on tape hitting the other child.
The tape system is helping bus driver morale, too, says Robertson.
"The drivers were frustrated because they felt they had no back-up from the school principals," Robertson said of student misbehavior on the bus. "Now they (the principals) can see what happens on a school bus." She says principals sometimes respond in shock to the every day shenanigans on the school buses.
The cameras are not only helpful on board, but Robertson says there are uses for them on the exterior of the buses in monitoring who is picking up children at each bus stop and motorists who pass while the red lights are flashing.
For now, though, she's focusing on just getting cameras on each and every bus, giving every driver an extra set of eyes.
"There can be up to 80 students on a bus. That's a lot of kids to keep an eye on," she said.