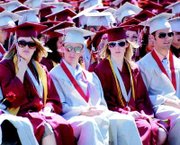 GRANDVIEW - With a slight wind and plenty of sunshine, the 133 members of the Grandview High School class of 2008 participated in its commencement ceremonies at Rich Leenhouts Stadium this past Saturday.
The members of the class are unlike any other class who has graduated from the high school, according to Grandview Schools Superintendent Kevin Chase. He said this year's class earned more credits than any other class and was challenged in passing the WASL.
"This class has met every standard we set," he stated. He added his feelings of pride in the class of 2008's abilities.
The featured faculty speaker at the ceremony was Spanish teacher Jeremiah Campbell, who congratulated the class on its many achievements, noting that the students who graduated leave behind a legacy to be proud of.
"You were all created for a special purpose," Campbell said, stating he borrowed the declaration from his former Spanish teacher.
He said the challenge set before each of the graduates is discovering what special talent or gift they possess and using it for a special purpose.
"When you find it, pursue it with passion," Campbell urged.
The class salutatorian, Raissa Licano-Sanchez, said much of life is about sacrifice. She stated she came to that realization after watching the movie Casablanca.
"The ability to abandon our own needs or desires for the sake of others is a precious gift," she told her classmates and those who were in attendance at the graduation ceremony.
She asked the class to think upon all the sacrifices made by those who helped them make it through the years of education...reaching the goal of graduation.
"This is not only a day to celebrate our accomplishment, but also to celebrate those who made it possible for us to spread our wings," Licano-Sanchez noted.
She said life is about being tested and taking risks, sacrificing for greater success.
Katie Veloz was the Grandview High School class of 2008 valedictorian.
In her speech, she explained that life is not always smooth. She quoted author and lecturer Randy Pausch, stating, "Experience is what you get when you didn't get what you wanted."
Veloz advised her fellow graduates to take control and strategize when faced with a negative situation.
She said dreaming big is important, and leading life the correct way will help achieve those dreams.
Veloz challenged her classmates to also become involved in the lives of others, become active in the community and gain enrichment in doing so.
Each of the graduates was announced by senior class president Keagan Christensen and ASB president Dalton Walker as they received their diplomas, celebrating the end of their high school career and the beginning of a new era in their lives.
Jennie McGhan/Daily Sun News
For the first time, Grandview held commencement exercises during the morning hours. The sun was shining on the Grandview High School class of 2008 this past Saturday, allotting an opportunity to don the shades.