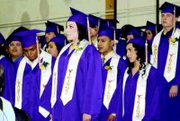 MABTON - In keeping with the Mabton High School class of 2008 motto, graduates were encouraged to forge their own paths this past Friday night during commencement exercises.
"Do not follow where the path may lead. Go instead where there is no path and leave a trail....," reads the class motto.
Valedictorian Cecilia Sanchez echoed the sentiment during her speech at graduation.
"High school has been good, but don't let this be the highlight of your life," she said.
Sanchez encouraged her classmates to focus on a goal and adapt to the process of fulfilling it.
And, she added, "In your own pursuits, it's OK if you don't know exactly what you want to do. Just don't lose yourself in the process," she said.
Sanchez told her fellow grads her goal when she entered high school was to be valedictorian. Following that pursuit led her down paths she didn't expect, but she is pleased with the outcomes.
Sanchez has been accepted to the University of Washington. She is also one of only 60 UW freshmen to receive a $40,000 academic scholarship from the university, where she will study biochemistry and Spanish. Sanchez is eyeing a career as a surgeon.
High school teacher David Vannatter was the guest speaker and he recounted memories of his experiences with the class of 2008.
"Now it's time for you to realize the safety nets are gone, there's nobody propping you up," he said.
"You guys can do whatever you put your minds to."
Salutatorian Jose Mendoza talked about struggles and challenges his classmates overcame in order to graduate.
He emphatically concluded his speech by addressing the audience with, "Take a look. Take a picture. These are your future leaders."