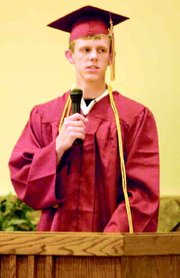 GRANDVIEW - Twenty-two Sunnyside Christian High School students received their diplomas this past Friday at the Church of the Nazarene in Grandview.
Hundreds turned out to watch the small contingent of students participate in their last official high school function before going on to college later this year.
Valedictorian Jason Friend spoke to the graduating class about what was learned in the four years at high school. He highlighted the class's junior trip to Washington D.C. and the freedom of going off campus for lunch their junior year.
He said when they became seniors they were the leaders of their school and noted the softball, basketball and volleyball teams' success at the State tournaments this past school year.
"There were many fun times this senior year," he said.
"Our school was truly a blessing in our lives," he added. "We will take different paths in life after this but we know God will continue to care and look out for us."
He also encouraged his classmates to stay strong in their faith and to practice their beliefs.
Commencement speaker Bethany Kapteyn challenged the class to find out how they've prepared themselves to be successful in life.
"How have you taken everything God has given you," she asked them.
She warned them of the dark and twisting paths in the world and encouraged them to keep listening to the voice of God.
The evening was also highlighted by two musical performances by students. Doohong Park sang Your Are Special in Korean and Friend played How Great Thou Art on the piano.
001
Corey Russell/Daily Sun News
Sunnyside Christian High School graduate Doohong Park sings You Are Special at last Friday's graduation.