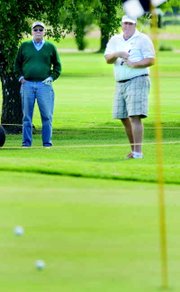 Randy Lee and Chris Indall, as close as you can get to being scratch golfers, bested the 31-team field this past weekend at the 2008 Bill Christie Memorial Two-Man Best Ball Tournament, staged at Sunnyside's Black Rock Creek Golf Course.
The 'Christie' is second only to the Banana Belt Invitational at Black Rock Creek, in terms of prestige and caliber of golfers competing.
Lee and Indall ham-and-egged their way to a one-shot victory over this year's runners-up, Sunnyside's Juan Guerrero and Joaquin Arambul. The two Tri-Cities golfers, both with handicaps of 1, tied for the low round on Saturday by carding a 1-under-par 71. Members of the private Meadow Springs course in the Tri-Cities, Lee and Indall backed up their opening round with a nifty, 2-under-par 70 on Sunday.
Their two-day total of 3-under-par 141 was one shot better than Guerrero and Arambul's 142 aggregate score.
Finishing in a two-way tie for third, at 1-under 143, were the duos of Rob Marshall/Hank Chafin and Gary Hutchins/Louis Alcala.
This year's Christie Memorial net champions (actual score minus handicap) were Ken Ott and Terry Ostrander, both of whom hail from the Lower Yakima Valley. The pair shot handicap-aided rounds of 62-60 for a two-day, 22-under-par total of 122. Two shots back with a net 124 were fellow Black Rock Creek regulars Jim Schlenker and Rick Mitoff. The three other teams to cash on the net side were Jason Eberle/Tracy Carr (127), Gene McIntire/Akira Nozaka (128) and Jose Contreras/Trini Madrigal (129).
In winning top honors this year, Lee and Indall snared eight birdies over the course of the 36-hole tourney, six of them on Sunday. Indall especially had the hot stick, recording six of the team's eight birdies. Ironically, however, it was Lee who posted better scores than Indall both days, firing rounds of 77-73, compared to Indall's two rounds of 78-76.
In claiming runner-up honors one shot back of Lee and Indall, Guerrero and Arambul's undoing may have come on the closing hole Saturday afternoon. The Sunnyside duo were at 2-under heading into No. 18, but neither golfer could manage better than a double-bogey on the final hole, leaving them at even-par for the opening day.
Guerrero and Arambul, with handicaps of 5 and 7, respectively, opened Sunday's play rock steady, going 2-under through the first eight holes before stumbling on the par-3, ninth hole with a bogey. The two mirrored their front nine 35 with an identical 35 on the back side.
The low 18-hole round of the tourney was turned in by Sunnyside's own Bob Hall and Justin Bos. The pair shot a 69 on Sunday, after opening with a 3-over-par 75.
In recording the 3-under 69 on the second day of the tourney, the two local golfers opened shakily, bogeying the first two holes. But, birdies on three and six got Hall and Bos back to even-par on the front nine. The pair then birdied the first three holes after the turn, parring in from there for a back side, 3-under 33.
Hall and Bos, tied with two other teams Saturday for fifth, ended up alone in fifth with their two-day, even-par 144.
2008 Bill Christie Memorial
Two-Man Best Ball Tournament
R. Lee/C. Indall 71-70-141
J. Guerrero/J. Arambul 72-70-142
R. Marshall/H. Chafin 73-70-143
G. Hutchins/L. Alcala 71-72-143
B. Hall/J. Bos 75-69-144
T. Madrigal/J. Contreras 75-72-147
G. McIntire/A. Nozaka 75-74-149
J. Stevens/W. Campbell 77-75-152
B. Damaskos/D. Angotti 78-76-154
R. Mitoff/J. Schlenker 77-77-154
K. Ott/T. Ostrander 78-77-155
A. Hidalgo/B. Benitez 80-76-156
D. Kihn/P. Stonemetz 77-79-156
S. Davis/B. Van de Graaf 82-77-159
T. Tudor/S. Tudor 81-80-161
D. Grow/J. Gauley 83-79-162
R. Harle/M. Harle 77-85-162
D. Clark/M. Clark 77-85-162
M. Nichols/K. Hector 81-82-163
G. Lenhart/B. Hicks 82-84-166
T. Carr/J. Eberle 85-82-167
P. Veliz/C. Mattocks 86-82-168
W. Flores/R. Boast 84-84-168
R. Andrews/S. Andrews 87-85-172
M. Mitchell/E. Gonzalez 87-86-173
R. Van Gundy/C. Garner 84-89-173
J. Kellum/P. Warden 90-84-174
J. Holt/D. Benson 89-85-174
K. Herber/P. Hart 88-88-176
M.Hogue/W. Hogue 92-94-186
R. Holt/D. Holt 97-95-192
Rod Smith/Daily Sun News
With playing partner Jack Kellum watching intently, Paul Warden fluffs a chip shot onto the second green Saturday morning at Black Rock Creek Golf Course. The duo absorbed a double-bogey on the hole.