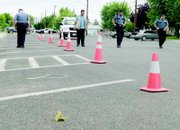 Sometime this past weekend armed vandals shot up city hall, knocking out windows and damaging equipment inside.
Sunnyside police were on the scene this morning (Monday), gathering evidence of the crime.
Sunnyside Police Chief Ed Radder said at least three shots were fired at the building and police are still trying to confirm the type of weapon used.
"We're chasing down leads now," Radder confirmed.
Sunnyside City Attorney Mark Kunkler said besides windows being damaged there was an old surplus printer damaged and a copier in the city manager's office that was hit.
Kunkler couldn't say how much damage was done at press time.
Also since last Thursday, 11 thefts and six burglaries were reported in Sunnyside.
Of the thefts, five included auto thefts, four reports included vehicles getting broken into, and a purse and a student's portfolio were reported stolen.
Of the six burglaries, two involved buses being broken into, and a hotel, business and residential house were broken into as well.