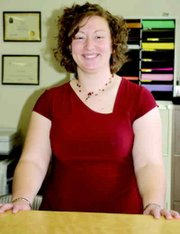 GRANDVIEW - Amber Haynes of Prosser has joined the staff at Life Options in Grandview, where she now works as an administrative assistant.
Haynes said she first heard about the position opening from her husband, Jeff, youth pastor at Mabton Grace Brethren Church.
"He was working on the (news) bulletin and he saw it, so he called me," she said.
Haynes said that she was already familiar with Life Options, as she had helped with their mailings and her husband participated in the organizations "Golf for Life" fundraiser.
In her new job, she said she'll be "doing whatever (Life Options Director) Jan McDonald wants me to do. And assisting at the front desk with scheduling and things like that."
Of Life Options, she said, "It's nice to know there's a place for people in crisis as far as pregnancy goes. And I'm really impressed they're catering to men now. There are two parts to every crisis and they (Life Options) want to be able to reach everybody."
Haynes and her husband are expecting their first child. "I think it's really cool that I'm working at Life Options and I'm pregnant," she said. Because of this, she frequently "sneaks a peak" at the organization's parenting classes.
Ultimately, she said she and her husband want to work as missionaries. "We're looking at the Philippines, but there are needs everywhere," she said.
Haynes works part-time at Life Options, Tuesdays through Fridays.
&nbsp