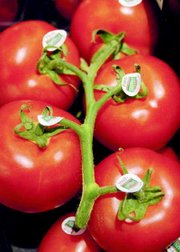 A widespread outbreak of salmonella attributed to tomatoes has led stores and restaurants take the proactive step-in line with FDA suggestions-to pull from circulation raw red plum, Roma and red tomatoes.
There is good reason to be cautious, as in the last two months the FDA reports there have been 167 reported cases of salmonella requiring 23 hospitalizations. The outbreak has been reported in 17 states, including Washington, Oregon, Idaho and California.
Like elsewhere in the country, local fastfood chains such as the McDonald's and Burger King restaurants in Sunnyside no longer offer tomatoes on their sandwiches and salads.
But it's not just chain restaurants going tomato-less.
The Sunny Spot Restaurant in Sunnyside has removed tomatoes from its menu. That's true of El Valle, also in Sunnyside, which no longer offers tomatoes. The ban hasn't hurt the eatery's salsa supply, though, as the restaurant says the topping comes from a pre-packaged mix.
Grocery stores are also complying with the caution surrounding tomatoes.
Before sounding a cry of, "Yes, we have no tomatoes!" there is still hope to have tomato slices in that summer salad or slapped on that sizzling barbecued burger. The Sunnyside Safeway, for example, offers vine-ripened tomatoes with the vine still attached, which the FDA says are safe.
Other tomato options the FDA says are free of the current salmonella strain are cherry tomatoes, grape tomatoes and tomatoes grown at home-all of which do not appear to be involved in the outbreak.
The FDA offers some suggestions for safe produce handling, including the few types of tomatoes still deemed safe:
- Wash hands with soap and warm water before handling tomatoes.
- Wash each tomato thoroughly under running water. Don't wash tomatoes in a tub or sink filled with water.
- When finished washing a tomato, cut out the scar where the stem was, and throw it away.
- Never cut a fresh tomato until it has been thoroughly washed.
- Cut the tomato on a clean cutting board, using clean utensils. Don't let the tomato come in contact with other raw foods or the surfaces they have touched. Wash cutting boards and utensils in between each different type of food that is cut.
- Refrigerate fresh, cut tomatoes (or products made from them, such as salsa) at 41° F or less if they're not eaten within two hours.
- Wash hands with soap and warm water after preparing the tomatoes.
In addition, the FDA doesn't recommend using detergents to wash fresh produce, because it is not yet known if their residues are harmful to humans.