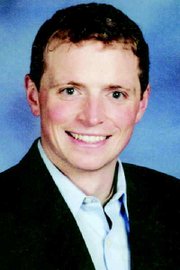 Little did Reagan Grabner know when he graduated with nine classmates from Bickleton High School in 1999 that he'd graduate with 900 classmates at Harvard.
But that's exactly what happened just last week.
Grabner graduated from Harvard with a Master's in business administration.
"I don't think I ever imagined going to school on the East Coast," said Grabner.
The son of Bickleton wheat farmers Doug and Helen Grabner, Grabner attended the University of Puget Sound following his high school education. In 2003, he graduated magna cum laude from UPS.
Harvard, he said, began to seem possible after he graduated from the University of Puget Sound. Landing a job at Goldman Sachs as a senior financial analyst in 2003 also helped.
He said he felt like he went from working the wheat fields in Eastern Washington to training in Manhattan for the Goldman Sachs position.
Working for that firm showed him "there are a lot of different people with a lot of different ideas. It's a very global company."
He then applied for Harvard in 2005.
He said, "It was pretty neat to have gotten that acceptance letter (to Harvard) two and a half years ago."
Growing up in Bickleton, he said, there were slim pickings in terms of finding a business mentor, simply because the community is so small. And he'd never met anyone on the fast track of going to Harvard.
One boon to his grade school and high school education is the fact that the town's so small, teachers know students from the time they're in kindergarten on up.
"That kind of relationship keeps you on track and working hard," he said.
He was also inspired by two teachers and a coach: science teacher John Rapach and English teacher Kirk Kennedy, who've since retired. "They could have taught at any university. They both had a great impact on my life."
Coach Ben McBride made a huge impression on young Grabner, too. Especially with McBride's dedication to the small community.
When it came to sports, Grabner appreciated his small school in that he could participate in any athletic activity he wanted. Grabner went on to run cross country while getting his undergraduate degree at the University of Puget Sound, where he double-majored and graduated with honors.
He also graduated from Harvard's business school with honors.
Now, he and his wife, Lindsey, are on their way to Colorado Springs, where Grabner will work as an associate with Resource Land Holdings.