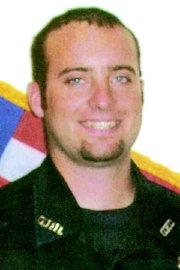 GRANDVIEW - Now that he's graduated police academy, Grandview's Kevin Glasenapp is a commissioned police officer.
Glasenapp just completed 19 weeks of training at the academy, graduating June 3 the top of his class academically.
"We're absolutely glad to have him back...we'll definitely keep him busy," said Grandview Assistant Police Chief Mark Ware. "And we think it's pretty special he was valedictorian."
Glasenapp said his least favorite part of academy was the fact that the commissioned officers-to-be spent the first few weeks in the classroom, studying state laws. There was no hands-on training until week four or five, he said.
But when it came to study high-speed chases, Glasenapp loved it. He and his classmates trekked to the Washington State Patrol training facility to study driving skills and firearms.
Glasenapp said he learned a lot about perceiving fear at academy. Among his most valuable lessons learned, he said, is to "just do it, even if you're scared."
In one exercise, he had to practice high speed driving and then braking in a certain amount of feet. Cones were set up and the students were to treat the cones as though they were a semi-truck. "I did it at 65 miles per hour. It was fun. They start you at 35 miles per hour, then build it up five miles per hour at a time."
Simulated traffic stops were fun, too. Classmates role-played various scenarios.
Now, Glasenapp is training with Grandview Police Officer Mitch Fairchild. He'll have to participate in a certain amount of various situations and skill sets before he can go out on patrol on his own.
Growing up, Glasenapp knew he either wanted to be a firefighter or police officer. He's both--he's been volunteering for the Grandview Fire Department for years and is now a commissioned officer.