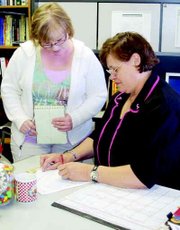 Longtime Lower Valley Crisis and Support Services board member Julia Hart has gone from being board chair to serving as the non-profit's executive director.
Hart began her new duties last month, making her the third person to serve as executive director since founder Ricki Tebaldi died last August. Hart said her predecessor, interim Ryon Hood, had to leave the post due to medical reasons.
Hart said her first goal as executive director is to get all 10 employee work stations wired for internet. Currently only three desks have internet capability. Hart says that if all staff members have internet and e-mail access it would facilitate the reports and communications that have to be filed as part of the programs administered at Lower Valley Crisis and Support Services.
The total cost of the internet project is about $10,000, says Hart, with a network server alone costing $3,500.
Hart hopes to make a dent in those costs tomorrow night, Thursday, when the Soroptimist club of the Lower Valley offers a barbecue benefiting the crisis service agency. The benefit will run from 5:30 to 9 p.m. at Snipes Mountain Microbrewery and Restaurant.
Hart sees other priorities for the center as expanding office and housing services. That includes a full-fledged playground for children who are staying at housing provided by Lower Valley Crisis and Support Services.
The organization also has 10 volunteer advocates. Hart says there is always room for volunteers, especially with two vacancies on the board. One of the board positions was formerly Hart's, who had to step down when she assumed the executive director role.
For more information about volunteer opportunities, call 837-6689.
Hart said Tebaldi, who led the Lower Valley non-profit for more than 20 years, was seeking to grow the organization. "We want to take the agency to the next level," Hart said. "That's what Ricki was doing."