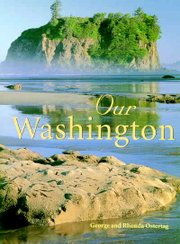 Most every home has a picture book or two that sits out on a display table and collects dust.
With "Our Washington," a photo journal that criss-crosses the state, you have a photo tome worthy of any display table...but you won't likely be able to set it down for very long.
Authors and photographers George and Rhonda Ostertag have been exploring Washington and the Pacific Northwest for more than 20 years. Their work is also seen in calendars and postcards and their other book titles include "Our Oregon" and "Backroads of Oregon."
Their handiwork in "Our Washington" is visible from the dramatic peaks of Mt. St. Helens and Mt. Rainier to the beauty of the San Juan Islands. Their camera takes you from the desert east of the Cascades to the rain forests of the Olympic Peninsula.
"Our Washington" isn't just about natural wonders, though. Stunning photos of the Space Needle and the Pike Place Market in Seattle are in the photo album, as is a 1858 church building near Chehalis with a crown of thorns steeple.
There's also photo space dedicated to the produce of the Yakima Valley.
The book, with 165 color photos on 128 pages, is published by Voyageur Press, a member of the Minnesota-based Quayside Publishing Group.
"Our Washington" is worthy of your bookshelf, or coffee table. Its retail price is listed at $19.95, and the book is available at most bookstores or on the internet at www.voyageurpress.com.
book cover, no cutline
photo courtesy Voyageur Press
Mt. Adams towers over an old Klickitat County farm site in this excerpt from "Our Washington."