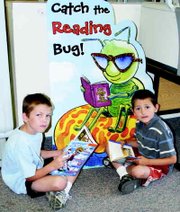 This summer, community members can "Catch the Reading Bug" at the Sunnyside Library.
The summer program is geared toward helping children of all ages continue interests in reading.
Each Tuesday at 2 p.m., the library will have fun activities, games, crafts and reading centered around bugs. The events are for children through the age of 12.
Tuesday, June 24, professional performer Mary Shaver will be at the library performing a marionette show for youngsters.
Beetle Mania is the name of the event to take place Tuesday, July 1. The program will be presented by the Yakima Valley Regional Library System children's staff members.
Thursday, July 3, a special concert, Musical Bugs, will take place at 10 a.m. The concert will feature a special performance by musician Jory Aronson.
July 8 and 15 at 2 p.m., youngsters are invited to visit the Sunnyside Library to make piñatas.
"Each event is intended to be a creative way in which to help children learn the many benefits of reading," said Librarian Amy Ravenholt.
For library patrons of all ages, she noted beverages will be served from 4 to 6 p.m. each Friday. "They will be offered for those who wish to beat the heat," she said.
Ravenholt said "bug movies" will be shown at the library Saturday, June 21, 28 and July 5. The movies will be shown at 2 p.m. and are intended for young and old alike.
For the teens in the community, the Sunnyside Library will also feature several special events.
Ravenholt said the especially popular events will be the Manga drawing workshop and stage make-up workshop to be held July 10 and 17, respectively. Due to the anticipated popularity, pre-registration for the two 4 p.m. events is required.
Thursdays will also feature crafts. Video gaming, pizza and a sharing of urban legends while eating "Fear Factor Food" are also scheduled for the Thursday afternoon events, which all take place at 4 p.m.
Adults will be afforded an opportunity to hear from exterminator Bob York. He will be talking about identifying household pests and controlling them. This event is scheduled for Tuesday, July 8, from 7 to 8 p.m.
Ravenholt said she encourages all community members to visit the library this summer and to take advantage of the many events planned.