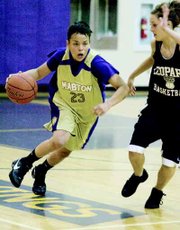 MABTON - For the fifth straight year, teams from around the valley participated in the Mabton Lady Vikings Invitational basketball tournament.
This past weekend 17 squads took the floor in Mabton. The number of teams included varsity and junior varsity girls basketball squads.
"It's a good thing for our kids to get some home games," Mabton High girls basketball coach Mike Roettger said. "It's a good showing. A lot of parents come out and support it."
The round-robin tournament allowed each team six games each. Although no tournament champion was appointed, Roettger said Prosser did the best with a record of 4-2. Local teams Mabton and Sunnyside Christian High School each finished with a record of 3-3.
The Lady Vikings beat Sunnyside Christian High School and Zillah on Friday but lost to Prosser. On Saturday, Mabton won its opening game against Toppenish but lost the final two games against White Swan and Highland.
"We did well," Roettger said. "For us to beat Zillah was a huge thing. I don't think we've ever beaten them.
"This was a good measuring stick to see where we are at this time of year and what we need to work on."